Writing A Self Help Book - Workshop 11 April 2020 Noon
COVID-19: many events have been canceled or postponed, please check with the organizer the event status.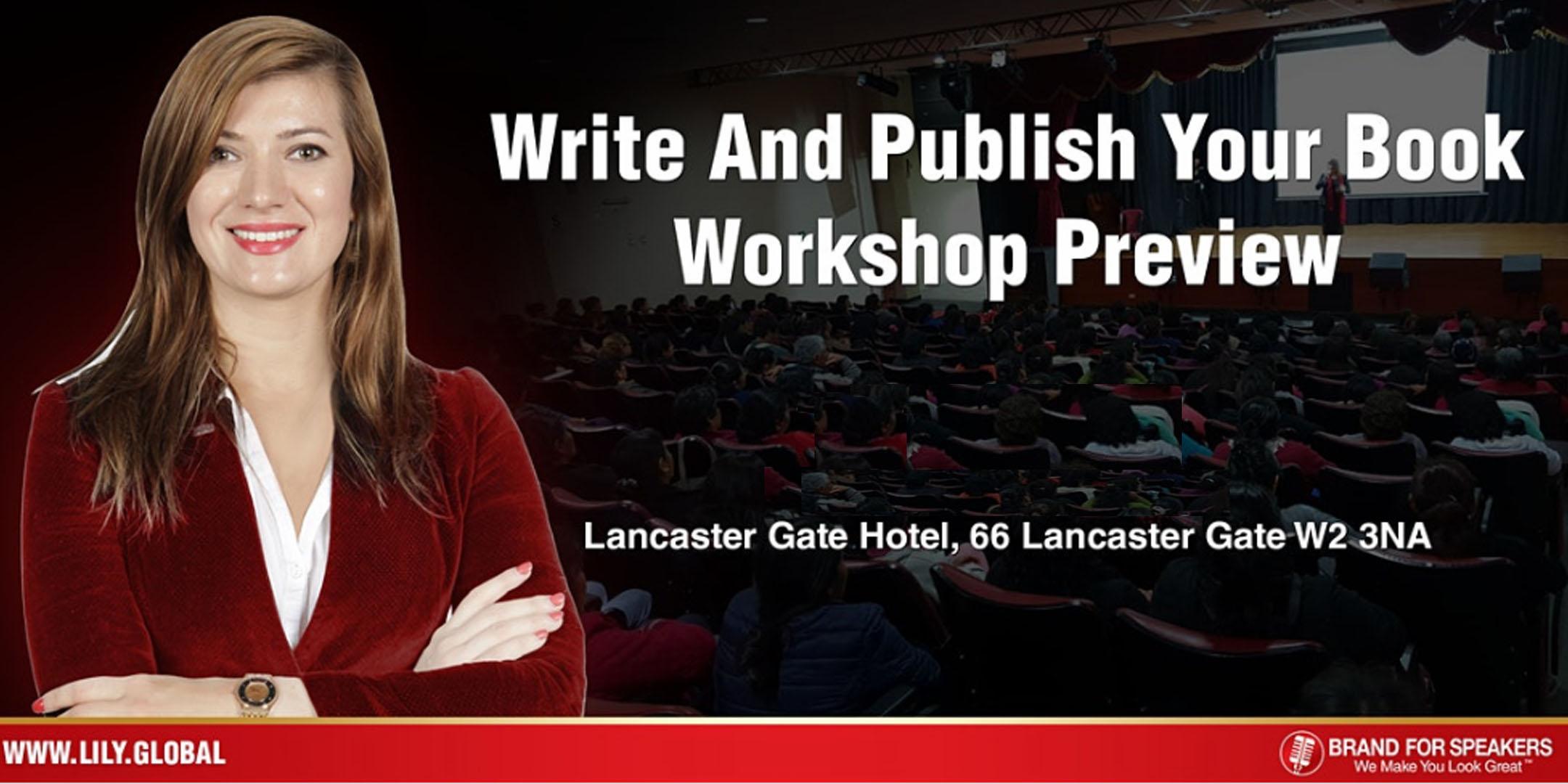 Image from eventbrite.com
---
Harry Sardinas and Lily Patrascu with Tony Robbins, The #1 Business Strategist worth 500 million dollars,"CEO Whisperer" and author of New York Times #1 best-seller MONEY: Master the Game and UNSHAKEABLE
Discover how to leverage a book at this 3 hour workshop. (FREE EVENT worth £197)
Here is what became possible for some of the authors in the Brand For Speakers Programme with me:
1. Reinvention Coach Adaobi Onyekweli Got Booked To Speak At The International Leadership Summit In India - From 5 Heart Attacks To Recreating Her Life
2. IT Engineer Christian Moser Is Currently Turning His Organisation System Into A Business With Multiple Ways Of Impacting The World - A Book, An App, A Community, An Online Course, A Workshop.
3. Property Developer Sandro Heitor Is Making A Difference With His Book, A Brand New Spiritual Gym Wear Brand & Innovative Spiritual Houses & Speaking Confidently Internationally
4. Empowerment Coach Teuta Avdyli Survived A Lorry Accident, Became Bestselling Author & Featured On TV
5. International Motivational Speaker Jimmy Asuni Delivered Keynote Speeches At Various Banks About Living With Disabilities
I understand and acknowledge when I book my ticket that there is video and photos taken of me which may be included in future marketing of the event.
When you book this event you acknowledge and accept you will receive emails and text messages reconfirming the event and possible future contact for other similar events. You can unsubscribe at any time.
Any issues reaching the event whatsapp Lily +447557351222
Lily Patrascu is the founder of "Brand For Speakers" (We Make You Look Great), co – founder of "Speakers Are Leaders" (Your Voice Can Transform The World), "Entrepreneurs Are Leaders" (Your Business Can Transform The World) and "Millionaire Speakers Network" ( Become A World Class Speaker). Some of these programmes were listed alongside the world's best courses and they aim to inspire entrepreneurs to attract more business to them and overcome their fear of speaking.
Her books have enabled her to go from nanny to running a 6 figure business, increasing sales, visibility and trust, and getting booked to speak worldwide.
She is mentoring CEOs, property investors, influencers, gold medalists, inspirational people, coaches, speakers and ordinary people to write and publish a book that can be turned into a business model in 60 days.
She has empowered hotel chains, financial institutions, universities, charities, politicians, employees, entrepreneurs, authors, women from all walks of life and young people to enhance their sales.
She has spoken at the same event as top world class speakers such as marketing expert Armand Morin, and she has empowered more than 10000 people in the UK, Singapore, Peru and Mexico in 2018 alone with her coaching programs to enhance their image and attract more business, share their message with the world and monetise their knowledge at the same time.
The biggest drive for her is making a difference and turning the message of ordinary people into extraordinary stories that impact the world. She is the author of "Peak Performance Sales", "English From Zero To Hero', co – author of the "Speakers Are Leaders" book and ghostwriter for multiple influencers and coaches in order to empower them to create multiple streams of income. Contact Lily to help you write and publish your book at hello@lily.global or +447557351222 on whatsapp.
Lily's mission is to empower 100 million people to be happier, go after what they want and share their stories, message and knowledge in books that transform the world.
Here are some people I have helped coach to write & publish:
Have you been wanting to write and publish a book and you simply did not know how?
Perhaps it has been 1 year, 2 years, 5 years or even 50 years since you have been wanting to do it and you just could not get round to it.
Les Brown says the graveyard is the richest place on Earth, full of unfulfilled wishes and dreams simply because some people were too afraid to take that step to fulfill what they really wanted to do, to share their stories or to go after what they really wanted.
Perhaps you have some knowledge, experience, a story, a message you would like to share but maybe you just have not been able to get around these stumbling blocks:
"I started it but I could not finish it"
"I don't have time"
"I don't know how to do it"
"I want it to be perfect"
"I don't have enough knowledge or experience"
"I am waiting till my children go to University"
"I am waiting for my husband or wife to give me approval"
"My grammar is not perfect"
"Who would want to know my story"
Or maybe you have written 10 books which have not brought you anything at all besides a one off "well done" from your best friends. If that is you, that is okay. It is not too late.
It is never too late to go after what you really want to do or to change your strategy for a better one.
Many years ago, it really felt like my time was running out, like I hadn't achieved anything at all…until the moment I wrote and published my first book, which opened more opportunities than I ever imagined - almost like a secret door opening to an unimaginable life.
Since then, I spoke in front of more than 10000 people in total in 5 countries, got invited to speak in many more countries, met celebrities, got featured on TV, attracted high end clients, got paid to do corporate training abroad, visited awesome places, had lots of fun and was invited to eat nice food.
I now work flexibly with clients I love whilst travelling worldwide. And the best part is I am filled with joy every time I see the transformation I create daily for my clients and what becomes possible for them.
I simply cannot describe the immense fulfilment I get when I see "invisible chains" in the minds of my clients such as : "I can't do this" crashing down and being replaced by unstoppable entrepreneurs who overcame adversity, and now look superb on stage empowering thousands, and surpass anything they believed they could do.
Here are some books I wrote and published:
Dress Code: Smart Casual
When you book this event you acknowledge and accept you will receive emails and text messages reconfirming the event and possible future contact for other similar events. You can unsubscribe at any time.
Any issues reaching the event whatsapp Lily +447557351222
LOCATION: Lancaster Gate Hotel, 66 Lancaster Gate, W2 3NA - we will be downstairs in one of the two rooms they have. Ask for Speakers Are Leaders at Reception.
P.S. Grab your ticket before it's too late
Harry And Lily On Stage
The Organisers:
Harry & Lily With Les Brown The Greatest Motivational Go Ahead And Book Your Ticket Now
Regardless of who you are and what you do, you have a story, a message or knowledge the world needs to hear. Your message doesn't have to be perfect. It just needs to be out in the world for it to have a chance to make an impact.
And that is precisely why I invite you to come to:
Write And Publish Your Book Workshop Preview - where you will discover exactly how you too can leverage the power of a book to:
?make a difference.
?monetise your knowledge or grow your existing business
? enhance your influence through personal branding,
? get booked to speak worldwide as a keynote speaker, speaker selling coaching programmes or content speaker getting paid to train corporates
? increase your impact and influence
? attract high end clients
?be featured on TV
I can help you turn your story, knowledge or experience into books, workshops and online programmes that transform the world, so you can:
1. Leverage A Book To Attract More Business Opportunities
2. Start A Business Around The Book
3. Leave A Legacy
4. Have Fun Travelling Worldwide Speaking About Your Book
5. Get Invited To Dinner By Leaders Of Organisations
6. Become More Visible & Influential
I will speak about how you too can achieve anything you want by writing and publishing your own book.
Harry And Lily With Influencers
Harry Sardinas - Hi, I am Harry Sardinas – the founder of Entrepreneurs Are Leaders, Speakers are Leaders, Millionaire Speakers Network and TopCoach.org.uk. I can empower and help you develop your leadership skills by showing you how to speak more effectively so more people want to do business with you with our international 24 hour LIVE program that was listed in the New Tycoon app among world's best courses – alongside Gary Vaynerchuck, Dr Demartini and Robert Kiyosaki.
I have trained thousands of Speakers, Entrepreneurs, Authors, Coaches and Young people to overcome their fear of public speaking and become more confident when speaking from the stage, so they can share their message with the world, contribute to society and create wealth at the same time and I can empower you to do the same so you can achieve your full potential, get the best results at work, attract more business to you and create a movement of inspired raving fans for your product.
I am an empowerment, public speaking & leadership coach, an international speaker, an entrepreneur, inspiring leader and author of multiple of books. I was invited to speak about my book on stage at National Achievers Congress, in front of more than 2000 people. Tony Robbins, Eddy the Eagle, JT Foxx, Kevin Green also spoke at that event. I've won the Toastmasters international public speaking contest club and area level. I have shared the stage with world class international speakers like Les Brown, Armand Morin and Sean Seah. Learn the skills, strategies and techniques that will transform your life and business. Book your ticket now for Entrepreneurs Are Leaders and I will see you there.
Here are some results obtained thanks to being a published author (for me and my business partner Harry Sardinas)
42 Views - 12/04/2020 Last update
Lancaster Gate Hotel
66 lancaster gate, London, England, GB
---
Are you an event organizer?
Create events for free. They will be immediately recommended to interested users.
Create event
Nearby hotels and apartments
66 lancaster gate, London, England, GB
---
---
Lancaster Gate Hotel
66 lancaster gate, London, England, GB
Event from
eventbrite.com
---
---
Are you an event organizer?
Create events for free. They will be immediately recommended to interested users.
Create event
Chelsea

›