'Treading your path', Day of Mindfulness, Sunday 22 September, Cardiff
COVID-19: many events have been canceled or postponed, please check with the organizer the event status.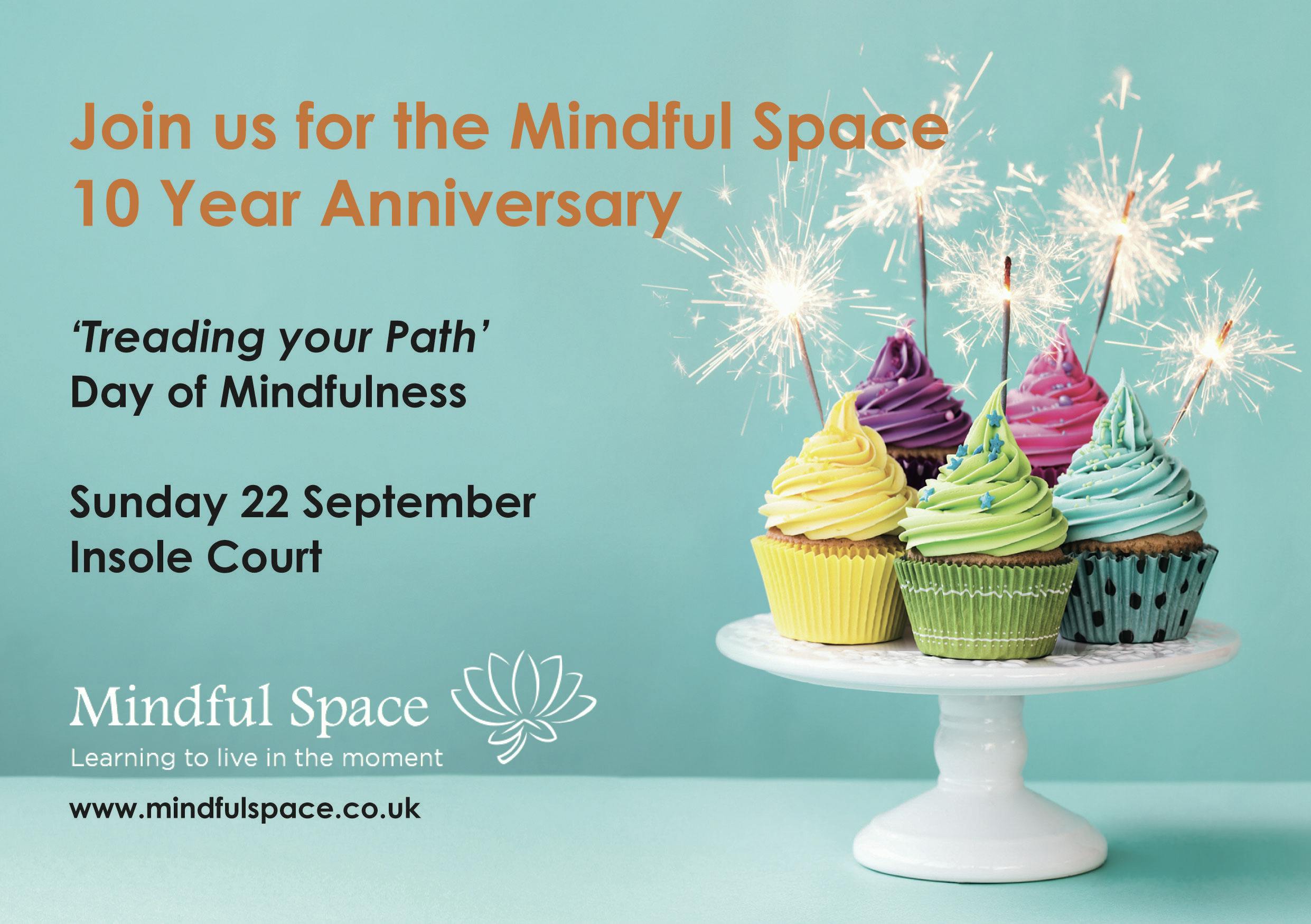 Image from eventbrite.co.uk
---
'Treading your path' - A Day of Mindfulness, Mindful Space 10 year Anniversary, Sunday 22 September, Insole Court, 9.30am – 4pm
We invite you to join us for this Day of Mindfulness to celebrate 10 years of Mindful Space. There will be a range of mindfulness-related workshops, space for meditation, reflection, conversation and food! All in the beautiful setting of Insole Court. There are only spaces for 45 people so do book early.
The day will provide the opportunity to:

Connect with others who practice mindfulness

Try a new mindfulness skill

Reflect on your own mindfulness journey and

Reboot your practice
The fees are £25 for subscribing members, £40 for Mindful Space graduates and £60 for the general public.
WHAT WILL BE HAPPENING ON THE DAY?
In the morning there'll be a choice of mindfulness-related workshops at 10.30am and at 12.15pm. In the afternoon there'll be space to reflect; some meditation; Vicki and Keith and several Mindful Space students will share a little of their experiences of mindfulness. There'll be room for discussion and we'd also love to hear a bit about your own mindfulness journey. There'll also be some input on mindful breathing and posture from yin yoga teacher, Vicky Ucele.
REFRESHMENTS
Refreshments are all included. There'll be a tea break mid-morning and a buffet lunch with veggie and vegan options.
WORKSHOPS
We've put together a really interesting programme of workshops. Numbers are limited and we'll invite you to choose your workshop options when you book.
WORKSHOP 1. (10.30-11.30am)
a. Self-Compassion, Vicki Worsley
Research has shown that self-compassion greatly enhances emotional wellbeing. In this workshop we will explore a gentle, compassionate approach to difficult thoughts and feelings based on the work of Kristin Neff and Chris Germer. Learn to bring the same kindness to yourself that you'd offer to a good friend.
b. Mindfulness for Troubled Times, Keith Hackwood
In this workshop we will explore how mindfulness might be our ally in facing the rising troubles of our own lives and of the wider world around us. In this time of ours, characterised by the rising sea-level of heartbreak, the culturally endorsed response seems to say 'less heart'. How might it be if instead what prevailed was 'more breaking open'? Using practices of presence and compassion this workshop invites us to that possibility.
c. Qi-Gong for Health, Emma Money-Kyrle
Emma's Qi-Gong session will be a gentle yet powerful movement practice to recharge your body and mind. Qigong is a form of moving meditation that works with our life force energy or Qi. It involves simple movements, posture, breathing and awareness to help us access our own natural vitality and health. Simply standing in alignment on the ground can help to build stamina and release deep patterns of tension and stress from our bodies. Mindfulness is at the centre of the practice taking time to bring awareness to our bodies and minds connecting deeply to our internal selves just as they are, perfect in every moment.

WORKSHOP 2. (12.15-1.15pm)
a. Mindfulness in the Fresh Air - Exploring our Practice in Nature', Leah Sian Davies
Being outside in nature is such a wonderful access to being present and an opportunity to refresh and recharge our body and mind. During this session we will be exploring these themes:

Being present in nature - walking with our senses

Filling yourself up first - the importance of self-care

Practising gratitude - bringing ourselves back to the present
We will be taking a stroll around the beautiful grounds of Insole Court, so please dress accordingly, wear appropriate footwear etc. It will be a very gentle stroll, but there may be some mud, uneven ground, etc. The rain will not deter us - just bring a rain jacket and be prepared to feel refreshed. We will spend time walking and stopping to discuss the themes, with a meditation sitting on mats. If you have any concerns about your ability to walk/stand/sit, please speak to Leah before the session.
b. Burnout - A Mindful Approach, Keith Hackwood
The first casualty of oncoming burnout is often our recognition that burnout is close by us at all, whereby the risk to us of being wholly consumed by it is increased. How might a rebooted mindfulness practice investigate this phenomenon and help alert us to the danger signs for our own wellbeing? Drawing upon the practices of presence and patience and inviting us to cultivate a relationship to our actual experience, this workshop seeks to support us in the healthy maintenance of our selves.
c. Insight Dialogue: Interpersonal Mindfulness, Vicki Worsley
This workshop will be a shared exploration of the interpersonal. We will learn to bring mindful awareness into the acts of speaking and listening. Through developing insight into the habits that generate interpersonal stress we can learn to allow calmness and clarity into our interactions with one another. This course is based on Insight Dialogue, the ground-breaking work of Gregory Kramer.

WORKSHOP LEADERS
Keith Hackwood
Keith is a Newport-based, psychosynthesis therapist, supervisor and mindfulness teacher. He has practiced meditation since the mid-1990s, mostly within the Tibetan Buddhist tradition. Through his therapy work (including drama and movement therapy) Keith has developed approaches to using Mindfulness within a wider psychological process of growth and healing, rooted in a relational way of working. He has taught courses, workshops and retreats with Mindful Space for many years. www.keithhackwood.com
Leah Sian Davies
Leah is a wellbeing practitioner working with schools and workplaces, and creating events in the community that encourage people to live a life that truly makes them happy. She is a Fresh Air Fridays facilitator and this session is a taster of the Fresh Air Fridays programme, which promotes total wellbeing in the community and the workplace. www.leahsiandavies.co.uk www.freshairfridays.co.uk
Emma Money-Kyrle
Emma is an experienced Shiatsu practitioner and Qigong teacher offering treatments in Shiatsu and meridian massage aimed to help bring balance to body and mind. Her treatments help to promote deep relaxation and are focused on relieving symptoms of pain and tension, leaving you feeling more centered, grounded and at peace within your body. Emma is greatly inspired by the earth energies to help us foster a greater connection with our natural environment so that we can get back in touch with our innate strength and energy leaving us feeling happy and healthy and in harmony with the world around us. Emma Money-Kyrle works at www.sunhouse.wales
Vicki Worsley
Vicki is an experienced meditator and trainer. She started practising mindfulness meditation while living in Japan in the early 1990s. She trained in mindfulness with Jon Kabat-Zinn (USA) and at Bangor University. She has attended retreats with Thich Nhat Hanh (France), Mindful Self-Compassion training with Christopher Germer and Kristin Neff and interpersonal-mindfulness retreats with Insight Dialogue founder, Gregory Kramer. She has an MA in Buddhist Studies from Bristol University. Vicki founded Mindful Space in 2009 and has since trained over 600 people in mindfulness.
Victoria Ucele
Victoria teaches the quiet, mindful practice of Yin Yoga. Her classes are 'functional' rather than 'aesthetic', so students focus on what they can feel in the body rather than what it looks like. In this way, she helps them adapt their practice so it is unique to them, both in body and mind. Victoria teaches in Swansea and Cardiff. Vicky will give some input in the morning and afternoon. https://www.facebook.com/uceleyoga/
127 Views - 23/09/2019 Last update
Insole Court
Fairwater Rd, Cardiff, CF5 2LF, Wales, United Kingdom
---
Are you an event organizer?
Create events for free. They will be immediately recommended to interested users.
Create event
Nearby hotels and apartments
Fairwater Rd, Cardiff, CF5 2LF, Wales, United Kingdom
---
---
Insole Court
Fairwater Rd, Cardiff, CF5 2LF, Wales, United Kingdom
Event from
eventbrite.co.uk
---
---
Are you an event organizer?
Create events for free. They will be immediately recommended to interested users.
Create event
Cardiff

›