The Ultimate Entrepreneur
Saturday 13 January 2018 9:00 AM Sunday 14 January 2018 7:00 PM
Save (1)
Saved (2)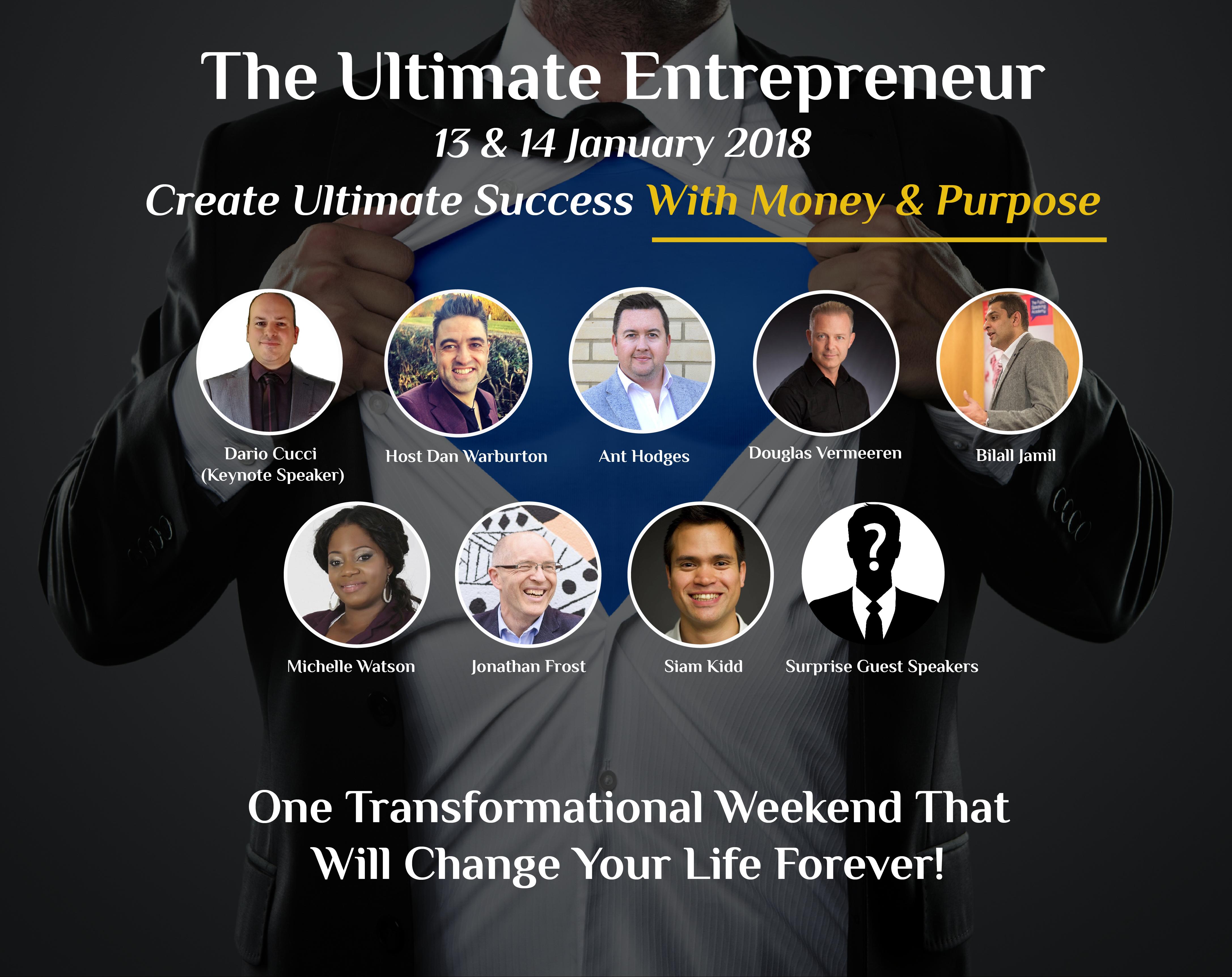 Last update 09/05/2018
364342
 Discover & Learn How You Can
Transform Your Business & Become
The Ultimate Entrepreneur Yourself
 ONE WEEKEND TO TRANSFORM YOUR BUSINESS WITH
INTERNATIONAL KEYNOTE SPEAKERS & EXPERTS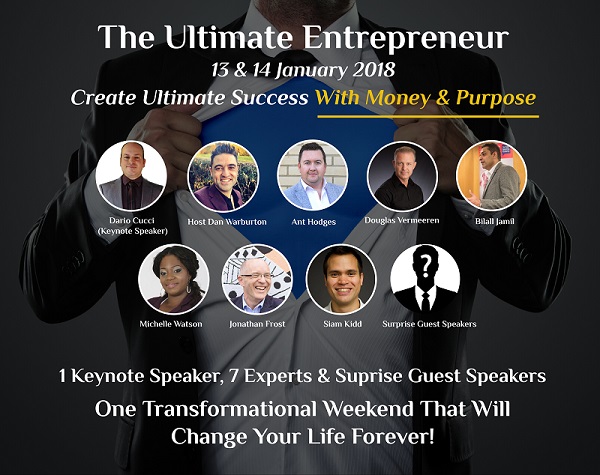 1. Boost Your Sales
2. Gain Insights On How To Position Yourself As The Expert In Your Industry
3. Be Inspired By Stories, that will get you to take action to gain Momentum in your Life & Business.
4. Discover how you can write your own Book in order to become a Lead Magnet.
5. Learn Skills & Strategies on how to leverage your Time to build your Business Faster 
6. Find out, how you can become a Public Speaker to increase Sales with what you do.
7. Have Experts give you valuable Content, Tips & Strategies that you can apply in your Business
Who Is This Event For?
1. Entrepreneurs
2. Small Business Owners
3. Consultants
4. Coaches
5. Personal Trainers
6. Authors
7. Expert Consultants & Therapists. 
And more...
Topics That Are Covered During The 2 Days Are:
How To Boost Your Sales By Holding Transformational Conversations With Your Prospects & Customers (Dario Cucci)

Gain Insights on how to Position yourself as the Expert in your Industry by learning, how you can market your Story to the Public to attract new Customers (Billal Jamil)


Be inspired by Stories, that will get you to shift your Mindset, take action and gain Momentum in your Life & Business. (Dario Cucci, Michelle Watson, Dan Warburton & other Speakers)


Learn skills & strategies, on how you can leverage your Time to build your Business faster (Jonathan Frost)


Find out, how you can become a Public Speaker to increase Sales in your Business with what you do. (Douglas Vermeeren)


Learn Marketing skills & strategies to win your ideal Customers within the next 30 Days. (Ant Hodges)


How to invest in Cryptos Currency safely and what portion of your wealth to play with (Siam Kidd)
Who are the Speakers?
Host & Keynote Speaker "Dario Cucci", will cover the importance of Communication and how you can hold a conversation that will transform someone's mindset and win their Trust within your first Phone Call with them, in order to get that Person to become a Customers of your Services.
So here are some of the confirmed Speakers that will be speaking at the Event.
1. Doug Vermeeren, International Speaker & CEO of 10 X Your Speaking Business.
2. Ant Hodges, Founder, and Creator of the Coach on Fire® Success Framework
3. Siam Kidd, Speaker, Owner of 7 Businesses & Full-Time Trader

4. Michelle Watson, International Speaker & Author Of "Overcome & Rise Above Book"
5. Billal Jamil, Speaker & Expert On Market Your Story
6. Jonathan Frost, Speaker, Media Personality & Expert On Fixing Your Systems To Enjoy Your Life & Boost Your Business Profits. 
In addition to all of that our MC and Transformational Coach, "Dan Warburton" will guide us through the 2 Days. He will show us how everyone can transform their Beliefs around Money & Sales no matter where they currently are with their Life. So that everyone can take their Business to the next Level. Isn't about Time for you to let go of you're own self-limiting Beliefs, to start living the Life you truly want and deserve? 


Make the choice to be there by confirming the Ticket of your choice now. 
FAQs
How can I contact the organizer with any questions?
You can contact "Dario Cucci" via Email, admin@on-call-business.ch or call him on +44 (0)121 318 5967
What's the refund policy?
If you paid or donated Money for your Ticket, after the 5 Day cooling off period, there is no Refund given for your Ticket.
Do I have to bring my printed ticket to the event?
Ideally Yes, however as long as you are registered to attend the Event and are on the list, that should be okay even without you bringing along your printed ticket.

Can I update my registration information?
Yes, you can.
Is my registration fee or ticket transferrable?
Yes but you need to let us know at least 3 Days prior the Event, so we can update our Attendee's List and verify the Details with the Person that comes to the Event, instead of you.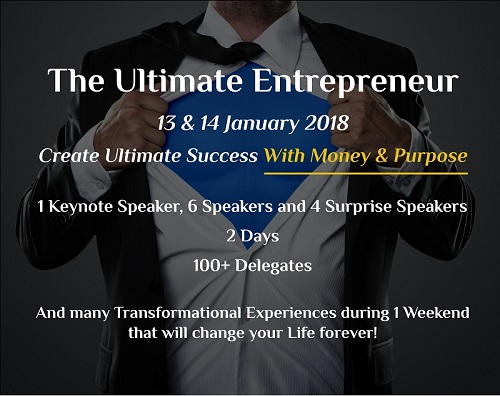 _
Discover & Learn How You Can
Transform Your Business & Become
The Ultimate Entrepreneur Yourself.
culture
business
education
Start Up
Nearby hotels and apartments
Holiday Inn London - Kensington Forum
97 Cromwell Road, London, England, United Kingdom
Holiday Inn London - Kensington Forum
97 Cromwell Road, London, England, United Kingdom