Talk with Rosemary Clunie and Ben Okri
Wednesday 27 March 2019 7:00 PM Wednesday 27 March 2019 9:00 PM
Save
Saved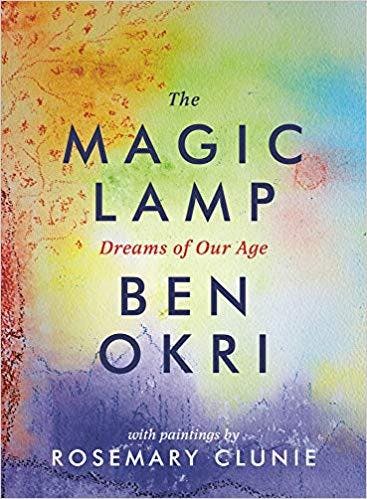 Last update 18/12/2018
239
An evening of conversation as we explore the current exhibition at Over-Seas House with Rosemary Clunie and Ben Okri. The conversation will look into the link between visual art and literature as well as the creative process that has brought these two elements together. The two artists talk about their work together on the book, The Magic Lamp: Dreams of Our Age, which presents twenty-five fairy tales for adults, with narratives that are a response to our times. Informed by our world but not limited by it, the text blends wonderfully with twenty-five original paintings, that pull you in to a land of colour and vision.
At this evening event we are looking forward to the discussion of which came first, the word or image, and how both grew together out of a long friendship and a creative symbiosis to create the book and source of inspuiration for an exhibition at the Royal Over-Seas League. 
Rosemary Clunie is a painter, printmaker and video artist, born in Scotland and living in Hampstead. She has exhibited at the World Economic Forum in Davos amongst other places.
Ben Okri OBE FRSL is a Nigerian-born poet and author. His work includes the Booker-Prize-winning The Famished Road, the first in a trilogy, and Starbook, as well as collections of poetry, short stories and essays. His work has been translated into more than 20 languages. He is a Fellow of the Royal Society of Literature and has won numerous international prizes, including the Commonwealth Writers Prize for Africa, the Aga Khan Prize for Fiction and the Chianti Rufino-Antico Fattore. He is a Vice-President of the English Centre of International PEN and was presented with a Crystal Award by the World Economic Forum. 
Nearby hotels and apartments
The Royal Over-Seas League
6 Park Place, London, England, United Kingdom
The Royal Over-Seas League
6 Park Place, London, England, United Kingdom