SUSPENDED UNTIL FURTHER NOTICE - Wednesday - 10 am - 11 am - Zumba Gold® with ZIN™ Amie King - Almondsbury Creative, Almondsbury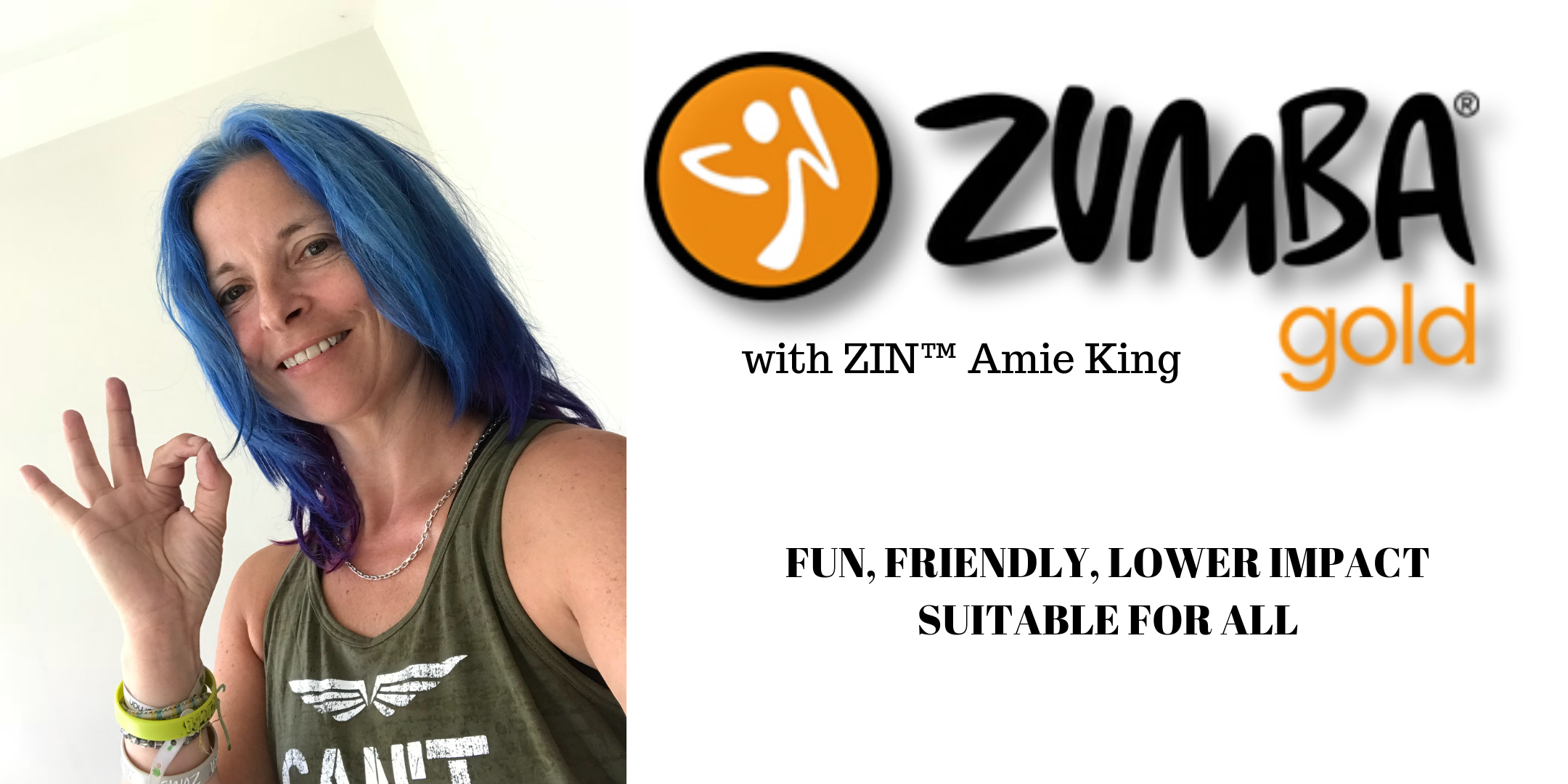 Image from eventbrite.com
---
DUE TO CURRENT GOVERNMENT GUIDELINES PUT IN PLACE ON THE 16TH MARCH 2020 ALL ZUMBA® AND ZUMBA GOLD® CLASSES ARE SUSPENDED UNTIL FURTHER NOTICE. I AM SO SORRY BUT THE HEALTH AND WELL-BEING OF MY CLASS PARTICIPANTS AND THEIR LOVED ONES MUST COME FIRST AT THIS UNSETTLING TIME. STAY SAFE ALL <3 x
Come along and join us every Wednesday from 10 am until 11 am for Zumba Gold® . I can't wait to see you there
WHAT IS ZUMBA GOLD®??
Zumba Gold® us specifically designed for the older active adult, the beginner participant and other special populations that may need modifications. It is easy to follow and this makes it suitable for people of any age. This invigorating Latin-inspired, dance-fitness programme includes Merengue, Salsa, Cumbia, Belly Dance, Flamenco and Tango and more. It will provide you with a safe and effective total body workout. With a party like atmosphere, fun and friendly classes, it is great for the body, body and soul. Zumba Gold® works on:
Improved fitness
Improved tone
Improved flexibility
Improved balance
Improved co-ordination and motor skills
Improved circulation
Increases insulin sensitivity
Lowers cholesterol
Lowers blood pressure
Helps the body to adjust to temperature change
Exercises the memory
Improves confidence
Provides social interaction
Helps adjust mood and promotes mental well-being
The great news is that EVERYONE IS WELCOME to come along and join us. Let me show you just how fun keeping fit and active can be. Amie xxx
Please remember that if you introduce a FRIEND to Zumba® then you get your class FREE. Please use the correct ticket booking box and book yourself and your friend individually by using their current e-mail. My thank you for spreading the Zumba® love.
FAQs
What should I bring with me?
The first time you attend a class with me I will ask you to complete a Waiver Form, which provides me with your basic information and acknowledges that you understand the activity you are taking.
Please wear appropriate footwear, trainers that have no grip are best or dance fitness trainers. Please avoid crocs, heels, boots or "grippy" trainers. It is best to wear comfortable clothing, such as leggings, shorts (in the summer), light cotton trousers suitable for dancing in, a sports bra is essential for proper support, where necessary, and also a light cotton t-shirt/top. Also bring a jumper, coat, sweatshirt as after class you may feel cold as you go back home.
You will also need to bring a drink with you, preferably water.
Please remember to bring your Loyalty Card.
Can I bring children with me?
Yes, children are welcome to attend with a paying adult. Young children are welcome to sit and watch but must make sure that they do not wander around the class as this can be dangerous for themselves and others. Children over the age of 11 will pay a full adult price for the class and are welcome to attend without parental responsibility. We ask that you request your child dances with you and that if they need to take a break to sit to the side of the class. Please note that this is an adult Zumba Gold® class and therefore music and movements will be appropriate for adults. Please consider this before bringing your child.
Is there parking available?
Yes, there is a large car park at the venue, which is free of charge.
What's a Loyalty Card?
You will receive a Loyalty Card the first time you attend a class. Collect a stamp each time you attend a class and for every 5 stamps you collect you will receive your 6th class free. Each class costs £5.00. Loyalty cards can be used across all classes. You may use your loyalty card at both Zumba® and Zumba Gold® classes in Almondsbury and Thornbury.
How can I get a Free Class?
Easy, introduce a friend to a class. Book on-line using the "I'm Introducing A Friend" ticket and you will receive your class completely free. This is for friends who have not attended a class in the past.
Do I have to bring my printed ticket to the event and why do I need to book?
No, the reason I ask people to register for my class is so that I know that you are attending. If there is a problem then I am able to contact you if, for example, I was taken ill and could not teach. It also means that I know how many people are attending as our halls do have limited space. If you are unable to book then please do come along anyway, it just gives me an idea of who is attending and who to expect.
I'm worried about walking into a class by myself for the first time?
Don't be, join us, you won't be alone for more than the time it takes you to get from the door to the hall. I take pride in my classes being friendly and suitable for all. If you have never done Zumba Gold® before then don't worry, I will give you a quick run-down on what happens at a Zumba Gold® class.
How can I get the most out of my Zumba Gold® class?
Basically, GO FOR IT!!! As you get used to the moves and routines you will be able to put in more effort. Remember that the more effort you put into your Zumba Gold® class, the more you will get out of it. Feel free to sing along, shout, whoop at us, anything goes, add your own funky moves, go nuts!!! The more you go for it, the more calories you will burn. Simples!!!
Just as there are ways to make more of your class, there are also ways for those of you who have problems with your joints or other ailments. You have the choice of doing modified moves, please talk to me if you need special advice. You are also welcome to attend this class and use a chair to sit and exercise with us.
64 Views - 09/07/2020 Last update
gloucester road
almondsbury creative, bristol, gb
---
Are you an event organizer?
Create events for free. They will be immediately recommended to interested users.
Create event
Nearby hotels and apartments
almondsbury creative, bristol, gb
---
---
gloucester road
almondsbury creative, bristol, gb
Event from
eventbrite.com
---
---
Are you an event organizer?
Create events for free. They will be immediately recommended to interested users.
Create event
Bristol

›