Super Socialise Me On The Beach - Blackpool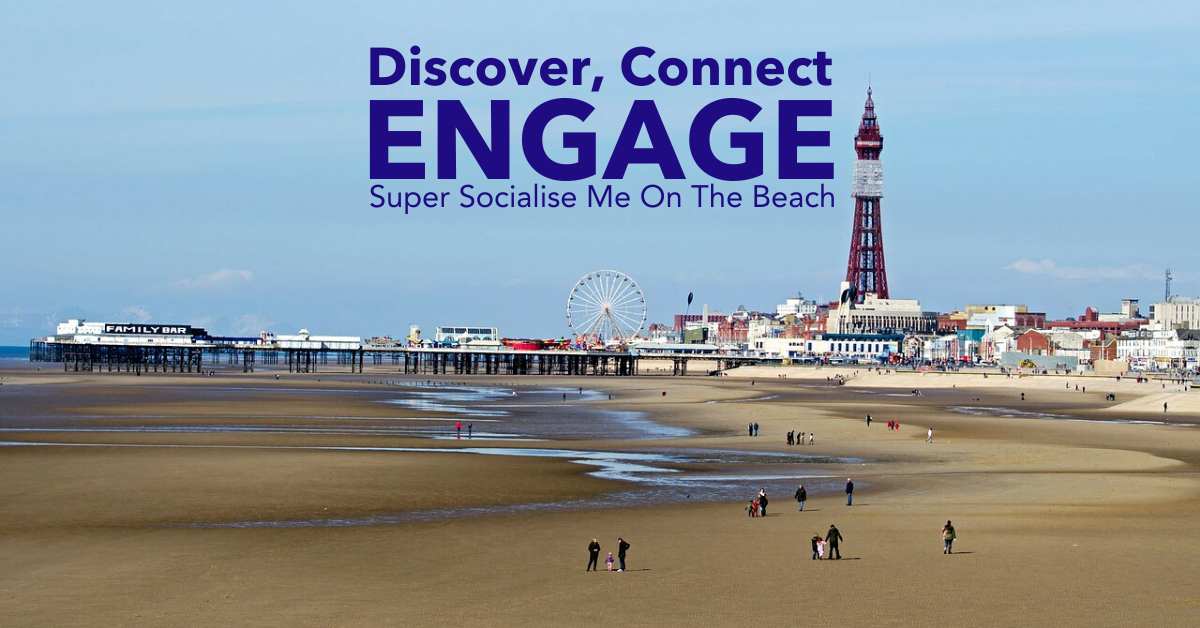 Image from eventbrite.com
---
Are you wasting your time on social media?
Or are you purposefully taking advantage of every opportunity it offers to grow your business online?
Whilst the overall use of social media has exploded in the UK in the past 15 years the average small business owner still uses just a tiny percentage of the capability it affords for everything from lead generation and customer acquisition to actual sales, brand awareness and customer service.
Whether through a lack of understanding, knowledge or fear the chances are youre by no means exploiting it to its full potential in your business.
AND THATS COSTING YOU MONEY!
Social media is sometimes seen as a flippant time suck but used appropriately with proper commitment and strategy it offers the greatest possible return on investment in time and money your marketing effort could effort hope to achieve.
The why is pretty straightforward. Most of us appreciate the difference it might make but the big question is HOW and thats what Super Socialise Me resolves!
Whether you want to
Learn To Love LinkedIn
Tune Up Your Twitter
Fire Up Your Facebook
Move Into Messenger
Get Into Instagram
Or Clean Up Your Content
Super Socialise Me will show you how
It's a life changer
GUARANTEED!
Join me for one extraordinary day thats sure to help you make better use of social media for your business bringing you more money, more time and less stress.
In one day you will learn EVERYTHING you need to know to make Facebook and LinkedIn work for your business.
We'll also look at Instagram, Twitter, YouTube, Messenger Marketing and content creation but for 99% of UK small business owners what you really need to understand is Facebook and LinkedIn.
If you get those working right EVERYTHING ELSE will fall into place.
My name is Mike Turner and I've been coaching business owners and professionals just like you to make a success of social media for more than 12 years, pretty much since social media began.
I'm a Facebook small business community partner and advertising specialist and long-established LinkedIn trainer.
I help business owners and professionals just like you achieve the greatest results for their business on Facebook And LinkedIn every day and Im looking forward to helping you make a success of social media too.
In a 24/7 always-on society that moves faster every day its getting even harder to keep up or know where to turn for the best advice about social media.
Should you and your business be on LinkedIn or Facebook, Instagram or Twitter, YouTube, Pinterest, Snapchat or even TikTok?
What about messenger marketing, machine learning, AI, AR and VR?
Are you ready for the HUGE changes that 5G and greater advances in Smartphone technology will bring?
Are you aware of the vast potential for growth RIGHT NOW in Facebook and LinkedIn groups?
If so, are you in a position to take advantage of it?
Super Socialise Me is a full-day training workshop and comes complete with...
World-Class Training
The Brand New 2020 Super Socialise Me Workbook
Lunch
Pre & Post Event Networking
Life-Changing Information to help you grow your business and build your income on social
I will help you put together a clearly defined social media strategy, combine it with easy to use tools and train you to make the very best use of your time online
As UK business owner Su Butcher so eloquently puts it "Why arse around for months getting it wrong when there are people like Mike Turner who know what to do
Dont waste any more time on social media. Get Super Socialised at Super Socialise Me On The Beach in Blackpool this August
505 Views - 06/08/2020 Last update
clifton drive
the big blue hotel, blackpool, england, gb
---
Are you an event organizer?
Create events for free. They will be immediately recommended to interested users.
Create event
Nearby hotels and apartments
the big blue hotel, blackpool, england, gb
---
---
clifton drive
the big blue hotel, blackpool, england, gb
Event from
eventbrite.com
---
---
Are you an event organizer?
Create events for free. They will be immediately recommended to interested users.
Create event