SIAS National Undergraduate Medicine Research Conference
Saturday 24 February 2018 8:30 AM Saturday 24 February 2018 5:00 PM
Save
Saved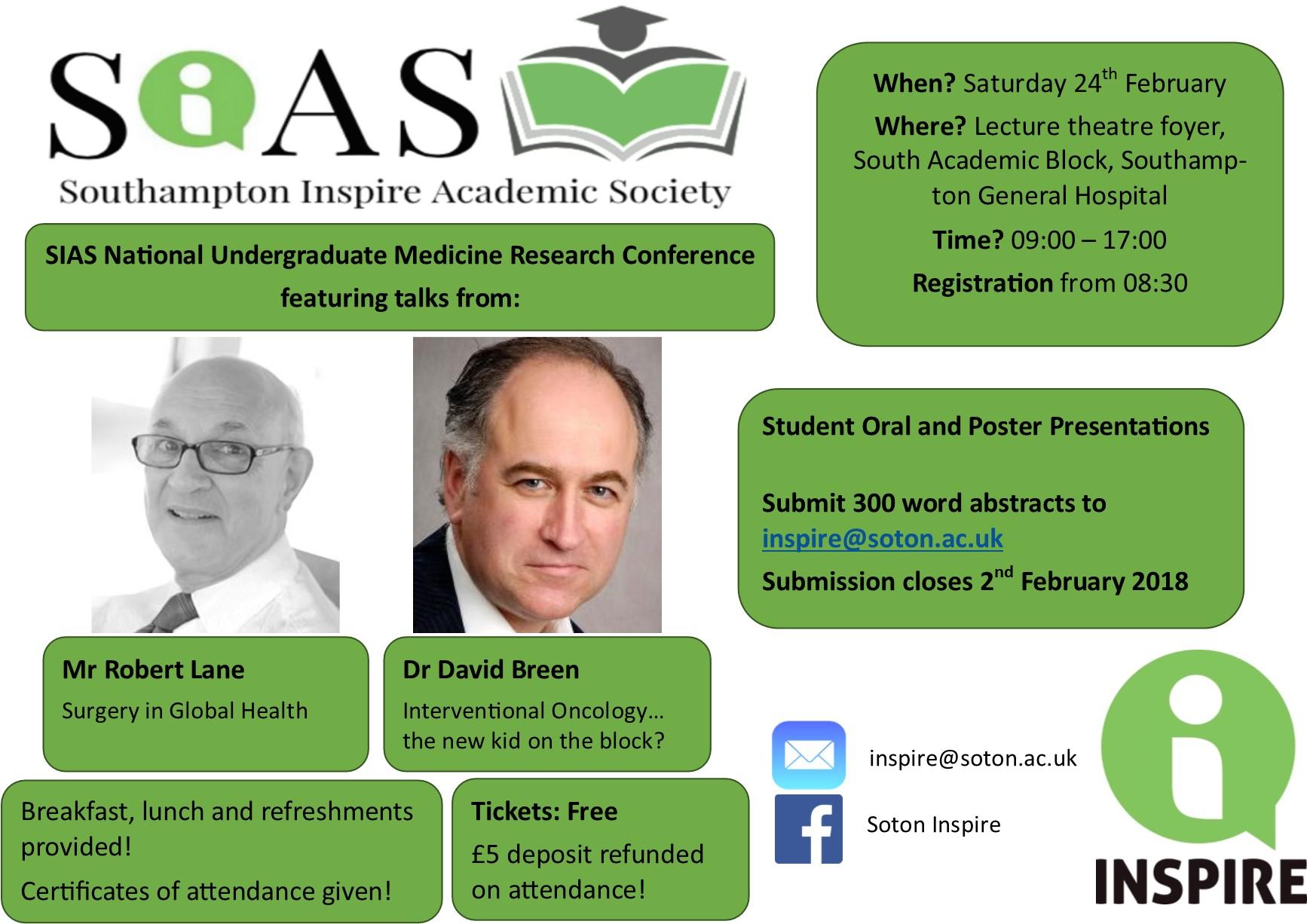 Last update 25/02/2018
1399
Presenting SIAS National Undergraduate Medicine Research Conference:
Please join us for registration from 08:30 on Saturday 24th February in the lecture theatre foyer in South Academic Block for this years SIAS conference!
The day includes workshops, student poster and oral presentations (details on abstract submission below) as well as guest speakers Dr David Breen and Mr Robert Lane.
Certificates of attendance provided!
Students with an interest in surgery, radiology, international medicine, oncology, anaesthetics and O&G may be particularly interested and inspired by the guest speakers.
ALL years welcome and encouraged to attend. This is a good opportunity to present research!


TICKETS:
£5 deposit, refunded on attendance! Lunch and refreshments provided!
FACEBOOK EVENT
Keep up to date using our facebook event!
https://www.facebook.com/events/1588642281219199/

ABSTRACT SUBMISSION
**Now closed**

Both oral and poster presentations available! Top abstracts will be selected for oral presentations!
Please email your 300 word abstract to inspire@soton.ac.uk
Abstract submission closes on February 2nd, for chance to win a £50 or £30 Amazon vouchers! Successfully applicants will be contacted by email.
Certificates for winning presentations and certificates of presentation will be provided!
SPEAKER BIOS
Mr Robert Lane is the President of the International federation of Surgical Colleges, and founder of the International Collaboration for Essential Surgery. Both efforts promote and help teach the effective use of low-cost surgical care to save lives and prevent disability around the world, especially in low-middle income countries, from cataracts and club foot, to managing obstructive labour, appendicitis and trauma.
Dr David Breen: Consultant interventional radiologist oncologist who pioneered image-guided thermoablation and cryoablation to destroy abdominal cancers. In Southampton, kidney cancers are now treated 1st line via interventional radiology rather than laparoscopic surgery, minimising recovery time for patients. Dr Breen is also Vice President of NHS England's Interventional Radiology clinical reference group and specialist adviser to NICE looking at new cancer interventions.
WORKSHOPS
There will be 4 workshops on the day:
1. Playdoh anatomy (1 hour): lead by the University Hospital Southampton Opthalmology Team! 
2. How to get research opportunities and publications (1 hour): lead by Dr Zeshan Qureshi (author of the unofficial guide series!)
3. How to critically appraise a paper (30 minutes): lead by Dr Helen Le Grice (Academic FY2)
4. How to grow a bone (30 minutes): lead by Dr Camelia Muresan and Dr Mohamed Mousa
theater
food
courses
conventions
Nearby hotels and apartments
Southampton General Hospital
Tremona Road, Southampton, England, United Kingdom
Southampton General Hospital
Tremona Road, Southampton, England, United Kingdom