The Sermon (a 55-min addictive dance workout party)
COVID-19: many events have been canceled or postponed, please check with the organizer the event status.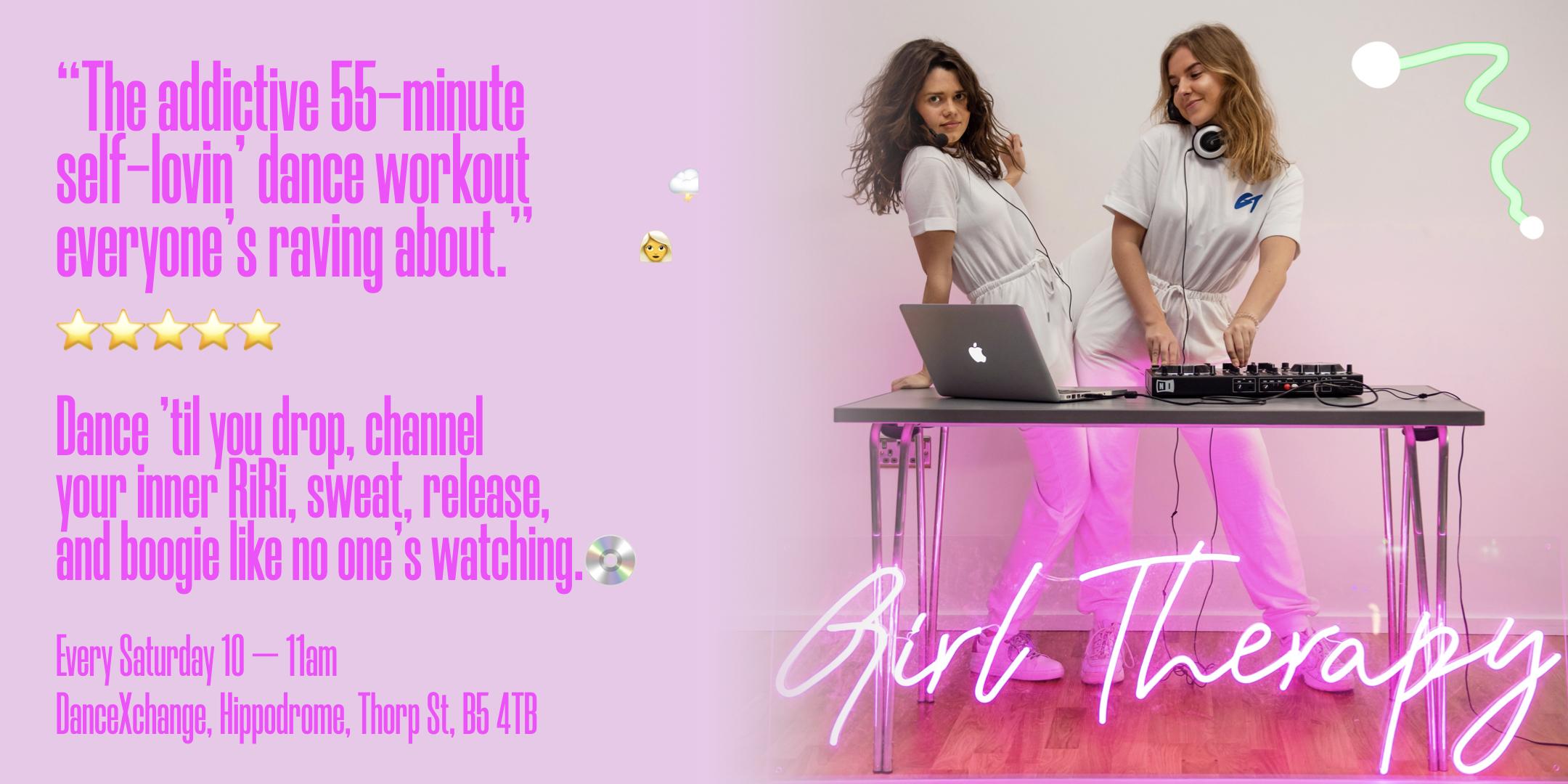 Image from eventbrite.com
---
BOOK YOUR EUPHORIC FIRST CLASS FOR £6. IT'S ADDICTIVE. *Use BOOGIE as your promo code at checkout.
What are you doing this Saturday morning, babe? Get your butt out of bed and join us for a 55-minute boogie. Literally, ANYONE can do this — no dance experience needed. Just bring yourself, and your mood (because you'll be leaving with the best one you've ever had).
The Sermon is a 55-minute endorphin-inducing 'dance 'til you drop' & emotional release mash-up class, where you'll sweat out all your lows, to find your high. Dip your fears in a cleansing balm of mantras, and rub your tears away with the sparkly moisturiser known as… this sick beat.
Each class has an MC instructor who will guide your moves to our thick as f*ck DJ mix, so you can channel your inner RiRi & leave your BS at the door. Are you ready to go all in?
See this class as your Saturday self-care appointment... and you're overdue to book yourself in, babe. It's going to be a triple threat workout for your mind, body & soul, & you f*cking deserve it! You'll leave the studio feeling like you just had an out-of-body experience, returning to the real world having levelled up, and restored your magnetising girl power.
The Sermon has only been launched a month, but already had phenomenal reviews... with women calling it a "Spice Girls goddess circle!". Also...
"Very freeing, fierce and spiritual. It's given me wings."
"I loved every minute of it, can't wait for my next class."
"Sweat all my troubles away. Ladies get down to one of these classes from Jan 2020! It's so worth the ass shake."
Book your euphoric first class for £6. It's addictive.
Spots fill fast… so don't miss out on starting your weekend on a high. See you there, babe. Time's running out!
---
FAQs
I'm no dancer, is this class for me?
Class-goers of all abilities are strongly encouraged. In fact, the class was created with the beginner dancer in mind, who wants to boogie & let loose without worrying about learning choreography. Instead, you'll learn simple but addictive moves that you can pick up instantly, turn up your energy for, and slay at. There's zero dance experience required, it's just your workout, the way you want it.
Is this a workout?
This is the first class of its kind that brings together all the benefits of yoga, dance, fitness & wellness in one class, making it a quadruple threat. It's literally a mind AND body workout that ticks every box for someone who wants to dance 'til they drop, feel the burn, and let go.
Is every class the same?
We introduce a new DJ mix at the start of every month. We recommend that you attend weekly to get to know the moves in each mix. You'll be amazed how quickly you progress as a booty-shaking self-empowered girlboss if you come on the reg.
What's the class like?
The Sermon is a mind & body experience, where you'll use movement & inner dialogue to connect with all your senses — to intentionally release any pain & fear currently locked inside.

Arrive at the studio raw as f*ck, and ready to WORK OUT your feelings like it's your very own emotional fight club. This is your hour to rally around whoever you want to be. Leave your reputation at the door. Flail your body around without judgment, yell without inhibitions.
Show up, be reckless, be a mess. Don't hold back, let it out. Lose yourself, find yourself, BE yourself. Make girl'fessions, or don't. No fluff, no BS, no apologising. Just revelations. This is a judgment-free zone to release your sh*t & return to the real world having levelled up, and restored your magnetising girl power.
Every class is 55 minutes long. We'll spend the first 5 minutes getting you fully immersed in your new MODE… which is self-consciousness free. This is the first wall that has to come down. Then we're going deeper… just follow the instructor as she guides you through free movement & words to shake up your cells & rid you of any weird inner vibes you're ready to drop.
You'll let your body soften until you feel light as a cloud, then air jump until all you can hear is your own heartbeat. There are no rules, just you — being your freestyle self — with an MC and DJ mix to get you there. By the end of the class, you'll feel like you've cleansed your emotional pores & brought the best version of YOU back to life. It's euphoric, transformational, and you can come back as many times as you want.
Before you go, you'll repeat an affirmation to defy all laws of self-doubt (half spiritual, half girl-boss), and write your intention to leave in the bowl of fate on your way out, so we can deliver it to the Universe on your behalf. Ask, and you shalt receive, girl.
What should I wear?
Your usual gym kit is perfect & there's zero presh to look any kind of way… but if you wanna really get in the #MODE to shed your skin & make the most of your feels, here's what we suggest:

Athleisure & activewear (& definitely a sports bra).
Wear your slouchys, be comfy babe.
Bright colours, pastels & neons. Think 80s or 90s aerobics baby!
Loose-fitting jumpers, tees, sweet ballet tops or crop tops w/ shorts or baggy sweats.
Ankle or knee high socks w/ thick white trainers or Converse.
Is there an age limit?
As long as you're over 18, you're good to go babe. At present, our classes are for over 18s only. If you want us to change this, please email us at china@girl-therapy.com with the subject line Under 18s Please!
How long is the class?
55 minutes, baby. Please arrive to class 5 minutes beforehand, ready to participate.
Where's the studio?
DanceXchange, Thorp St, Birmingham B5 4TB. Head into the entrance area, and there's a lift on your right that will take you right up to the studio on Floor 5.
How far is it from the train station?

It's 6 minutes walk from Birmingham New Street station, and 10 minutes walk from Birmingham Moor Street Station. Those are both accurate walking times.
Is there parking?

Yep. There's Thorp Street Car Park (1 min walk) and St Judes Car Park (4 mins walk).
Do I need to bring anything?

No, just yourself & zero fear. You're about to enter an instant best friend territory.
Are there changing rooms?
Yes! And a shower :)
Do many men attend?
Honestly? No… but we wish they would! Our classes are soul food for everybody. Men are beyond welcome to join any class.
What if I'm late?

We ask that you respect the class start time, and show up ON TIME (5 mins early is best, 10 mins if you need to get changed). Every class is emotionally loaded as f*ck… and not only is it stressful for you to show up late as you'll miss a crucial part, but it's disrespectful to interrupt that process for anyone who's mid-experience. If you're more than 5 minutes late, we won't be able to let you in.
What's the refund policy?
As long as you give us 24 hours notice, we're happy to re-register you to a new class. Drop us an email to get it sorted.
I still have questions!
Contact us at china@girl-therapy.com and we'll get back to you within 24 hours, though usually we're way faster! Though chances are, your answer is in these FAQS :)
263 Views - 12/04/2020 Last update
dancexchange hippodrome, birmingham, england, gb
---
Are you an event organizer?
Create events for free. They will be immediately recommended to interested users.
Create event
Nearby hotels and apartments
dancexchange hippodrome, birmingham, england, gb
---
---
dancexchange hippodrome, birmingham, england, gb
Event from
eventbrite.com
---
---
Are you an event organizer?
Create events for free. They will be immediately recommended to interested users.
Create event