Physical Theatre Course - Spring Term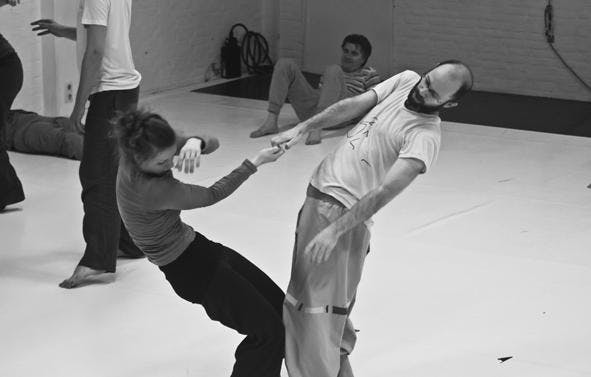 Image from eventbrite.co.uk
From Wed 17 April 2019 to Wed 19 June 2019
From Wednesday 17 April 2019 to Wednesday 19 June 2019
---
This Short course is a great opportunity to explore Jacques Lecoq's Techniques and Physical Theatre.
The central idea of this course is to release preconditioned views of acting and bringing student's attention back to their own body.
Students are introduced to physical exercises, movement improvisation, movement analysis, and devising process to discover the expressive possibilities of their body and to developed self awareness.
THE BODY
"The body knows things about which the mind is ignorant", cit. Jacques Lecoq.
Ourbody is a powerfulliving entity with a deep knowledge and memory. It's an incredible expressive instrument, that owes a vast language and wisdom.
What do we need to do is to create a bridge and a dialogue with our body!
In this process of exploration, we will connect with the aliveness and playfulness of our emotional body, to discover a new movement vocabulary which will allow us to be expressed on a deeper and creative level.
PLAY
Lecoq used to say: "A true understanding and knowledge of theatre inevitably requires a profound experience of play".
Play is nature's form of education. Play creates what is called the 'absorbent state of mind', which means you can absorb a lot more information, i.e. learn optimally & practice your creativity.
When you play and have fun you forgot you are "playing". Performers relax because they lose the pressure of "performing well" and self judgment.
When you play everything is allowed! There is no wrong and no right, just the need of responding and reacting to impulses and provocations.
Playing is a great technique to improve listening and contact with each other. And it is safe! You can say "Yes" as you can say "No"… AND YOU CAN MAKE MISTAKES…and enjoying being a looser!
BREAKDOWN OF THE COURSE
The course will be articulated in two modules:
1st Module. Encountering with your own body.
The first module will be based on "meeting with your own body"! Exploring in which ways we can move in a more sustainable, playful and creative way.
We will be working on playfulness, core connection, gravity and balance. We will explore how our body can function better when we use our core to generate movement, and which kind of movements we can create when we "move from the centre".
We will investigate the concept of balance, equilibrium and disequilibrium, and how we can perform them in order to create drama and action.
2nd Module. Applied Techniques.
Starting from this acquired exploration of our own body we will then move towards studying fundamental movement principals, discovering time, space, rhythm, shapes and gestures.
In this module students will be asked to observe reality and nature and to analyze the interconnection between the human body and reality.
Therefore we will be working on embodying states of flow, resistance, push and pull and natural integral forces regulating nature and life.
WHY JACQUES LECOQ PEDAGOGY
The central idea in Lecoq's pedagogy is that theatre is a poetic medium and the performer is first of all a poet. His language is the body. Lecoq's pedagogy trains the body of the performer to be able to become a poetic instrument. At the base of this poetry of the body there is mime. For Lecoq "mime" doesn't simply means: imitation of reality. A mime is, first of all, somebody who can observe the world around him, take an impression in his body and then represent it through gestures.
A physical theatre performer has the capacity to listen and observe the reality around him and to generate impressions. Once this process is activated the performer is able to transpose this reality with and through the body into poetical shapes and gestures.
Within the poetical shapes, the personality of the artist comes out, in the way he treats these elements of poetry. But it's not about him, it's about his relationship with the world.
The real talent of the performer is not to act but to re-act. It's about the ability of the actor to see, reflect and respond.
The drive of this course is to inspire participants to start a journey within their body. We aim to provide you the opportunity to be a creator in shaping your own sustainable practice, experimenting and getting knowing the possibilities and potentials hidden in your body, developing complicity, individualization and generosity when work with your colleagues.
This course welcomes students from different backgrounds interests and talents. We want to offer a stimulating and challenging space in which students will be able to experiment, acknowledge and create, using their body as the first starting point to create a dialogue with reality and creativity.
TIME, SPACE, PRICING
Duration of the course: 17th of April – 19th of June. 10 weeks Course.
3 hours weekly class. Every Wednesday from 7pm to 10pm. At Theatre Delicatessen in Broadgate, Liverpool Street.
Early birds tickets – Booking before the 105th of March: 190£
Cost of the Course: 240 £
Course is lead by Monika Gravagno
Monika Gravagno is a Performing Artist. She has been trained at the London International School of Performing Arts (LISPA) in Jacques Lecoq's Pedagogy and Devising Techniques. She works as a Teacher and Coach, specifically in devising projects, leading and helping artists during their creative process.
31 Views - 20/06/2019 Last update
culture
art
education
music
courses
Theatre Delicatessen - Deli Studios
2 Finsbury Avenue, London, England, United Kingdom
---
Are you an event organizer?
Create events for free. They will be immediately recommended to interested users.
Create event
Nearby hotels and apartments
2 Finsbury Avenue, London, England, United Kingdom
---
---
Theatre Delicatessen - Deli Studios
2 Finsbury Avenue, London, England, United Kingdom
Event from
eventbrite.co.uk
---
---
Are you an event organizer?
Create events for free. They will be immediately recommended to interested users.
Create event