Leadership & Personal Branding for Business Leaders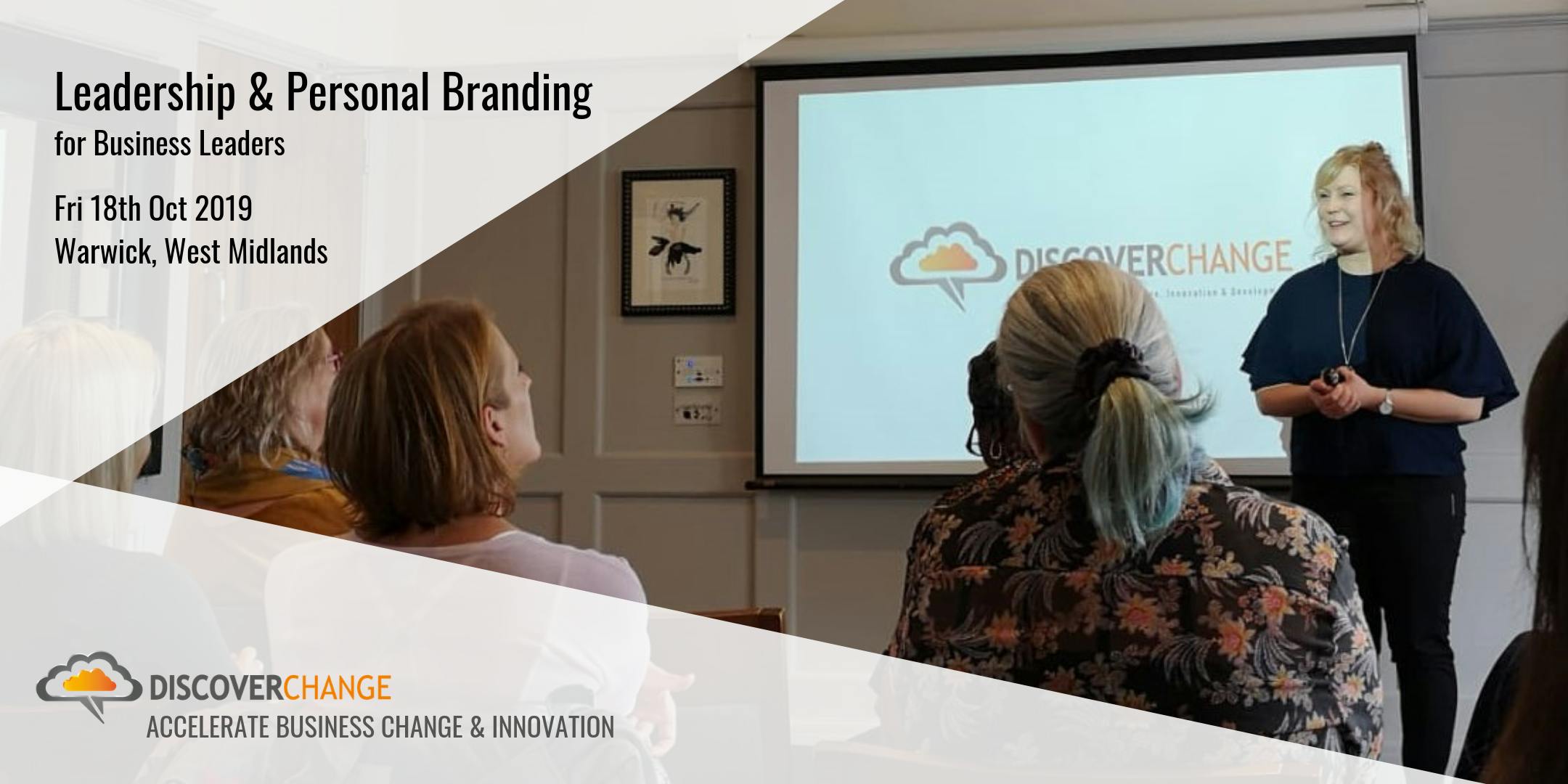 Image from eventbrite.com
---
How to Powerfully Brand Yourself and Reach Your Ideal Customers?
Do you have a particular product, service, expertise, specialism or passion, and you want to take your business to the next level?
Maybe you've already been building your business, but are now looking to improve your branding and marketing strategy and have stronger and more consistent online presence. Professional branding is the key for reaching and engaging with your ideal clients, and in this workshop you will discover a simple yet powerful formula to confidently and strategically promote your services.
In this 1-day business event, you will learn how to powerfully brand yourself and reach your ideal customers, and develop a strategy you can immediately benefit from in your business.
DiscoverChange is a business development consultancy helping entrepreneurs and leaders accelerate their business innovation, development and digitalisation. It's all about working smarter, not harder, and really leveraging your authentic brand and talent! We deliver workshops, consultations, overseas masterminds, bespoke digitalisation projects and online courses.
What is the event about?
This full-day business workshop will be intensive, educative and interactive and give immediately implementable branding and marketing strategies and tools for business leaders. Susanne, your lead trainer for the day, will provide comprehensive strategies to brand yourself powerfully in the market and reach your ideal clients NOW. The process will be immediately ready for you to implement!
You will also hear from a range of different speakers on how to leverage personal branding and social media with easy-to-use digital processes and methods. It's not all just hard work though, we have lots of fun activities planned and you'll get an opportunity to meet and network with other like-minded people!
This is "not another learning event", this is strategic business planning and all about making 100% sense of the processes related to your branding, marketing and sales!
In this workshop you will:
Discover and build on your unique leadership and entrepreneurial character

Create an authentic personal brand you can confidently promote to clients or partners

Learn an easy-to-implement formula for marketing and selling your services

Discover how you can create marketing material and content with ease

Get support and ideas to create attractive content now

Discover simple and free methods to sell your services online

Learn multiple strategies to boost your productivity and stay focused
These powerful yet practical activities and resources can be immediately benefited from in your business whether you are starting out or already have established your business. You do not need any prior experience in branding, marketing or sales. This will remove all guesswork, confusion and stress from implementing the RIGHT processes to grow YOUR business.
What's included in the ticket price?
Full-day admission to strategic business development workshop

Opportunity to learn from speakers and trainers from different levels

"My Business Strategy" workbook

Lunch (different dietary requirements are catered for)

Refreshments throughout the day

Networking opportunities
The event is held at the prestigious Court House of Warwick. A range of parking and commuting options are available and upon booking your ticket you will receive more specific recommendations and instructions.
Registration starts at 9 am. Event starts at 9:30 am, and finishes at 5:30 pm.
What is DiscoverChange?
DiscoverChange facilitates educative, innovative and motivational workshops where you will receive business growth tools and strategies that are immediately implementable in your business. Activities and planning are focused on branding, marketing, sales and customer service, ensuring that particularly digital processes are designed to work in your favour. Along with her team, the lead consultant Susanne Virtanen provides workshops, 121 consulting, overseas masterminds, online courses and personal development sessions.
Your Workshop Facilitator: Susanne Virtanen, Business Development Consultant
Susanne has versatile experience in facilitating business and leadership training and development, also internationally. She is passionate about helping leaders innovate and grow with ultimate efficiency and confidence, and with her team they work with a range of businesses in strategic and digital development, including branding, marketing, training, sales and customer service. Susanne's Bio: www.discoverchange.ltd/susannes-bio
---
What Our Customers Say:
"I attended Susanne's workshop about personal branding and online marketing and it was informative and lively. I've realised how important personal brand is for the success of a company. Most useful for me was to learn how to package products and services. I am determined to share my learning with others, thank you Susanne – it was brilliant!"
Kathryn Bodenham, Charity Volunteer
"Susanne's workshop was about branding and online marketing, and the session was energising and focused. Before today I wasn't sure how to connect with my clients, but now I know how to be clear about what value I offer. Sometimes it's challenging for me to focus and be strategic, and I've now realised that systems and processes are my friends. Massive thank you Susanne, I give full 5 stars to this session and also recommend it to others."
Caroline Bublik, Life Coaching
"Susanne and her team have a phenomenal support to me in turning my passion into a business. She is so passionate about what she does that it invariably rubs off on you. Her knowledge and encouragement have really helped me to gain clarity and push me forward in my business ventures. I feel so comfortable talking to her and expressing my ideas. Knowing she is just a phone call away for that quick pep talk and check in, is invaluable."
Janet Ellis, Coaching & Events
"Susanne from DiscoverChange is passionate about helping you cultivate the growth mindset and skillset to help you succeed in business. Aspiring to be the best version of yourself and not settle for mediocrity is a challenging journey to pursue and one that she understands well. Thank you Susanne for your continued encouragement and support along my entrepreneurial journey."
Rachel Garwood, YouRCook Online Comparison Site
"It has been a great experience working with Susanne from DiscoverChange. She has helped me to realise my key strengths and use this to develop a robust business. Taking up the business coaching with Susanne has definitely exposed me to a lot of things I can do to turn my business into a success, and I have achieved a lot in a short period of time. Thank you Susanne for being an inspiration to other women."
Favour Bolaji, Coach & Events Organiser
"Susanne's workshop about taking my business to the next level was exhilarating and valuable. Before today I wasn't sure how to use my video content but now I know how, where and why. From today I will stop procrastinating with making videos. Thank you Susanne!"
Mike Morris, Manufacturing Consulting
"Great passionate individual, it has been a pleasure working with Susanne of DiscoverChange Ltd, she truly knows how to unleash the entrepreneur within you. Susanne has really helped me with strategising and defining my Business and services. Giving me the correct mindset to set goals and hit targets. Susanne has helped me turn my business around making it a true success. Can't thank you enough."
Tyrell Wilson, Digital Marketing
More Testimonials: www.discoverchange.ltd/testimonials
85 Views - 19/10/2019 Last update
The Court House Warwick
Jury Street, Warwick, CV34 4EW, England, United Kingdom
---
Are you an event organizer?
Create events for free. They will be immediately recommended to interested users.
Create event
Nearby hotels and apartments
Jury Street, Warwick, CV34 4EW, England, United Kingdom
---
---
The Court House Warwick
Jury Street, Warwick, CV34 4EW, England, United Kingdom
Event from
eventbrite.com
---
---
Are you an event organizer?
Create events for free. They will be immediately recommended to interested users.
Create event