MK Digital Summit 2019 - Digital Transformation & Marketing Event
Tuesday 23 April 2019 9:30 AM Tuesday 23 April 2019 4:30 PM
Save
Saved
Last update 24/04/2019
306890

In 2018, 123 Internet Group hosted the first MK Digital Summit. The event was held at the prestigious Chicheley Hall and featured a host of key note speakers from a wide range of industries, including Barclays, Integral Powertrain, and SproutSocial.
Following the success and attendance for last year's event, 123 Internet Group are proud to announce that the MK Digital Summit is back for 2019.
This year MK Digital Summit will be raising much needed funds for the Ronald McDonald House Charities. The charity aims to keep families together, close to their children in hospital, by providing free 'home away from home' accommodation and support.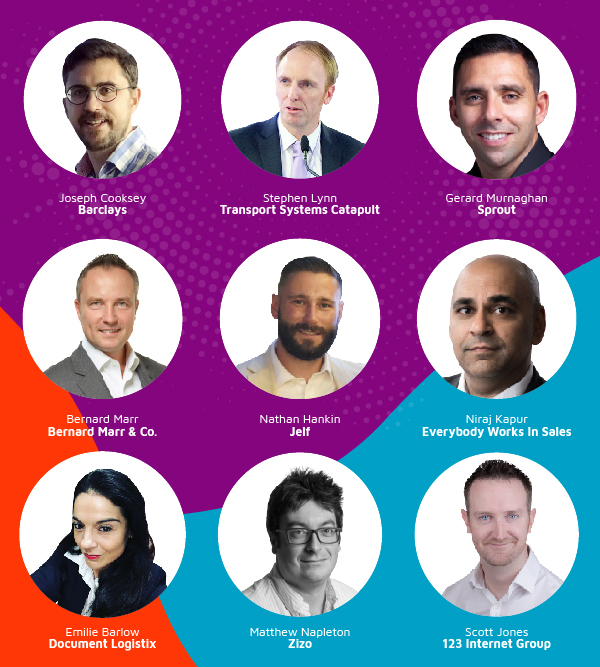 Don't miss out on this years event!
With higher demand than ever, this year's event has been moved to The Odeon where over 250 delegates will have the exciting opportunity to learn about the impact of digital transformation and how to push your business to the forefront of digital marketing.
We have partnered with long standing connections, industry leaders and world-renowned influencers to help you develop your digital marketing. These include Bernard Marr, Barclays, Sprout Social and Document Logistix. Some of the biggest software providers and industry leaders will be discussing how they have been involved in the digital transformation world and how they have embraced this trend to enhance their business.
There will be a wide range of keynotes and the chance to network with other businesses throughout the day, including a fun-filled VIP evening hosted in the Gallery on-site.
How do you get involved?
If you would like to attend, please register your interest and a 123 Internet Group appointed associate will be in touch shortly to confirm your space, dietary requirements and provide further exciting information.
Please remember that when you book your ticket, you will be donating to a fantastic charity which supports those families with children in hospital - and at the same time attend, learn and connect to industry leaders (with a free lunch).

Agenda:
Professional Business Networking

Introduction - 123 Internet Group

Banking Industry with Digital Transformation / Cryptocurrency - Barclays

Milton Keynes – the UK's home of Transport Disruption? - Transport Systems Catapult

Social Media as a Communication Tool Between Brands and Consumers - SproutSocial

Selling In A Digital World - Everybody Works In Sales

Using Artificial Intelligence in a Digital World - Bernard Marr

Putting Data at the Heart of Digital Transformation - Zizo

Document Digitisation & Business Process Workflow / GDPR - Document Logistix

Protecting Your Business Online - Jelf

Live Workshops with SproutSocial

Wrap Up - 123 Internet Group

More Announcements Coming Soon!
Speakers:
Scott Jones, CEO - 123 Internet Group
As one of the leading digital marketing agencies with a head office in Milton Keynes. The experienced agency boasts over 40 years combined industry experience, delivering a full suite of digital marketing services to over 600 national clients. Lead by a passionate and highly motivated team, 123 Internet Group provides digital strategy, web design and development, search engine marketing, social media management, hosting and email services.
Caroline Sinclair, Fundraiser, Ronald McDonald House Charities
When a child is seriously ill in hospital, they depend on the love and support of their parents and family. Ronald McDonald House Charities provides free accommodation at Children's Hospitals across the UK, with the closest to Milton Keynes being in Oxford. Building has just begun on a new 62-bedroom Ronald McDonald House in Oxford which sit at the very heart of the John Radcliffe Hospital and will enable families to stay together next to the hospital while doctors battle to save their child's life. It will provide the most effective and urgently needed support to thousands of exhausted parents and traumatised children for generations to come.
Joseph Cooksey, Digital Engagement Manager - Barclays
Joseph joined Barclays in September 2007 as a personal banker in Ipswich. He became a branch manager in May 2008 and managed a number of branches in Suffolk. In April 2013 Joseph was a founder member of the Digital Eagles. The Digital Eagles were formed to help engage colleagues with new technology. They now provide support for colleagues and customers across the bank and the original 18 members have grown to over 18000.
Joseph now works in the business bank helping customers across East Anglia, Bedfordshire, Buckinghamshire and Northamptonshire. He helps customers in meetings and at events on subjects such as Cyber Security, Data Security, Digital Marketing, Data and using digital to become more efficient.
Gerard Murnaghan, General Manager EMEA - SproutSocial

In the UK alone, there are over 39 million users on social media providing plenty of marketing opportunities for a wide range of businesses. Learn from the experts at Sprout Social who offers deep social media listening and analytics, social management, customer care, and advocacy solutions to more than 25,000 leading brands and agencies.
Headquartered in Chicago and we also have offices in Seattle, Dublin and London and are scaling our global team. You will hear from Gerard and Joshua on how social media applies to the marketing mix and how it connects you to the world. You'll receive interesting stats, industry insights and top tips on posting via social platforms.
Sprout believes the strength of social is its ability to create a real connection between people and the brands, communities and causes that matter to them.
Consumers expect transparent, authentic and personalized experiences on social. Sprout's solutions empower brands to foster deep, meaningful relationships with their audiences and realize the full business potential of social
Bernard Marr, UK's Top LinkedIn - Bernard Marr & Co
Recognised by LinkedIn as one of the top 5 business influencers in the world. Bernard Marr is an international, best-selling business author having published over 15 books. He is also well known as a keynote speaker and strategic advisor to worldwide companies.
He is one of the world's most highly respected experts when it comes to business performance, digital transformation and the intelligent use of data in business.
Nathan Hankin, Cyber Security & Online Security - Jelf
Nathan Hankin is the Regional Cyber Development Executive for Jelf. His role is to train and educate staff and clients on the evolving world of Cyber and how insurance policies will respond. Nathan has been an advocate for Cyber insurance for several years helping his clients and colleagues alike. He has 9 years' experience in the insurance industry dealing with SMEs in a broad range of sectors.
Emilie Barlow, Document Management With AI - Document Logistix
Emilie has been the Sector Sales Manager at Document Logistix for over 6 years and will explain how digitization is not just scanning paper files. Emilie has great experience helping medium sized and large organizations to automate their business processes and make them tick their dreaded GDPR compliance.
Emilie will talk about the sectors she works with and the journeys she goes on with her customers to help them digitize their records and make their businesses more efficient.
Document Logistix recently won the Award for Best Business Process Management and Workflow solution in November 2018 and Emilie will talk about how proud she is to be part of such a fast moving and successful organization and also what it's like to be a woman working in IT, in a male dominated environment.
Document Logistix proudly sponsors Women in Data and the Milton Keynes Curry Club and Emilie will also touch on the power of networking.
Matthew Napleton, Putting Data at the Heart of Digital Transformation - Zizo
Zizo lead the way in Big Data analytics and can deliver cloud analytics and data science as a service through our patented technology. With the ability to deliver solutions in days via a pattern database delivered as a service, they allow business users to discover new insights to improve performance, revenues and customer experience, no matter what size of business, or scale of data; all for one low, monthly cost.
With a focus on delivering business value, they service customers across many sectors, including Media, Retail, Insurance, Logistics and FMCG.
Niraj Kapur, Selling in a Digital World - Everybody Works In Sales
After 23 years working in sales in corporate London – from SMEs to The Guardian Newspaper Group to FTSE100 businesses, Niraj's book, Everybody Works in Sales became an Amazon bestseller reaching #17 in the Business chart and has been in the top 100 Business Kindles 11 times.
Due to this success, Niraj has set up an expert sales coaching practise, where he helps businesses increase revenue and achieve results by teaching sales techniques and strategies that are not forceful or lacking integrity. According to research from LinkedIn, Forbes, Entrepreneur, Inc and Fast Company, the fastest way to grow your business is more sales. Niraj has trained clients from microbusinesses, to local businesses like ASC Financial, Sure2Door, NAC Retail, Santander, to large corporates like Barclays and Lyonsdown. In his free time, Niraj supports Milton Keynes Hospital Charity, Willen Hospice, Milton Keynes Community Foundation and grows a ridiculous moustache every year for Movember.
Stephen Lynn, Marketing & Communications Director, Transport Systems Catapult
Stephen joined Milton Keynes based Transport Systems Catapult (TSC) in July 2015. In his role at the government funded TSC, the UK's technology centre for Intelligent Mobility, Stephen has overseen the first UK public Demonstration of a driverless vehicle and has created awareness of the countries innovation capabilities across the globe. Prior to the TSC, Stephen ran the marketing department for the retailer 'Game' and worked for Virgin for over 8 years.
culture
art
food
trade shows
business
family
Nearby hotels and apartments
ODEON Milton Keynes Stadium
Stadium Way West, Milton Keynes, England, United Kingdom
ODEON Milton Keynes Stadium
Stadium Way West, Milton Keynes, England, United Kingdom
Event from
eventbrite.co.uk