MIND THE GAP. Review and understanding of HTM 04-01 Part B
Tuesday 21 March 2017 9:30 AM Tuesday 21 March 2017 3:30 PM
Save
Saved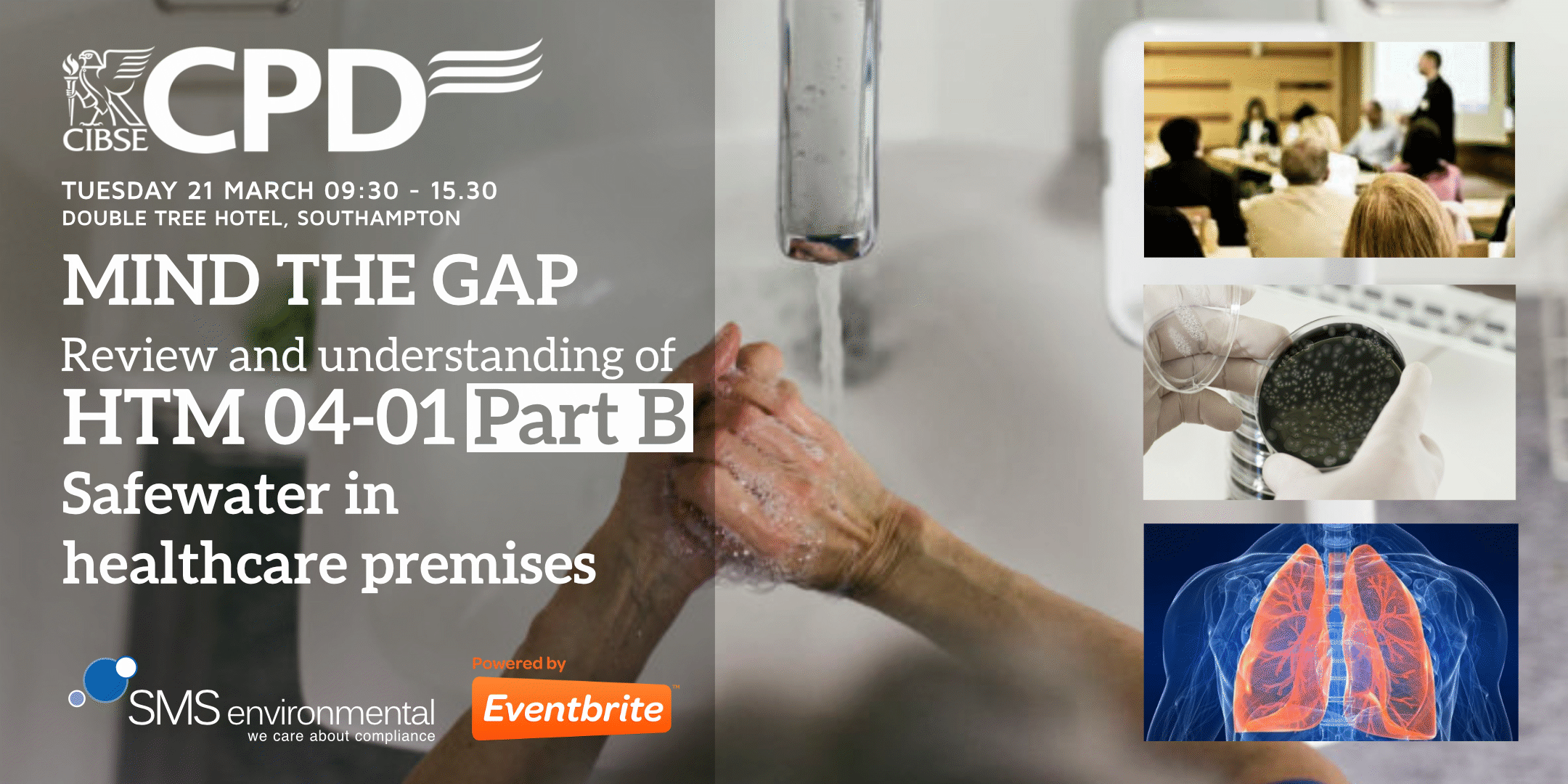 Last update 22/03/2017
595
Safetwater in Healthcare Premises
Healthcare trusts are under ever increasing pressure to reduce infection rates whilst minimising their own operational costs. In meeting this challenge a buildings water system represents a key battleground and one that makes headlines if control measures fail.
Are you involved in a healthcare water safety team? Do you attend water safety groups? Or do you have a vested interest in ensuring control measures don't fail and will stand up to scrutiny? This training event is being provided for the support of a number of NHS trusts in the review and understanding of HTM 04-01 Part B - Safewater in Healthcare Premises. This complementary opportunity to attend has been extended beyond these Trusts to you so that best practice can be shared on the day and attendees can find learning outcomes even more valuable. 
Look forward to meeting you,
John


Training carries a maximum 4 CIBSE CPD points and covers the below in-depth:
The impact of significant changes to  HTM 04-01 guidance
Safe management of water systems, integrating the principle of Water Safety Groups and Water Safety Plans.
How to manage and minimise the risks to health; Ranging from clinical risks, microbial and chemical contamination, changes to the water system, resilience of the water supply etc. 

Evaluating staff competencies; and

Implementation of in-house water hygiene awareness training.

The impact of changes to statute law and enforcement procedures.

Relevant case studies to illustrate discussion points.
The day also include practical demonstrations in:
Improving the effectiveness of Water Safety Groups (WSG) and Water Safety Plans (WSP).

Evaluating risk and utilising in house teams to improve assessment outcomes.

Demonstration of the relative effectiveness of common control measures.
---
Agenda/Schedule 
09.00 - 9.30 Registration and Reception  - Tea/Coffee & Pastries
09.30 - 10.30 Introduction and Training Commencement
10.30 – 10.45 Tea/Coffee Break
10.45 – 12.30 Training
12.30 – 13.00 Lunch – Hot and Cold Buffet
13.00 – 14.00 Training
14.00 – 14.15 Tea/Coffee & Snacks
14.15 – 15.15 Training Complete
15.15 – 15.30 Q & A Session and Summary
---
 About the Trainer
John Sandford MSc Dip Nebosh has over 25 years practical and research experience in the field of water treatment and control with specific expertise in application of the HSE's ACoP L8 and NHS Estates Health Guidance HTM 04/01 and is a regular speaker at Health care Estates seminars as well as other associated water and wastewater management events. He acts as a consultant for health care trusts, county councils, universities, government departments and housing associations as well as acting as a workplace supervisor for MSc thesis at Cranfield University.
---
About the Venue, Double Tree Hotel, Southampton. SO16 3NG
Parking on site is free.
Free Wi-Fi available.
For directions and any further information please visit the website: http://doubletree3.hilton.com
/>
For further information please view the attached brochure  https://goo.gl/vvIjfS (Directions pg3, Image of the room hired appears on pg10).
Nearby hotels and apartments
Double Tree by Hilton
Bracken Place, Southampton, Hampshire, United Kingdom
Bracken Place, Southampton, Hampshire, United Kingdom