Manifest Now! Clear Blocks 1 DAY BOOTCAMP
COVID-19: many events have been canceled or postponed, please check with the organizer the event status.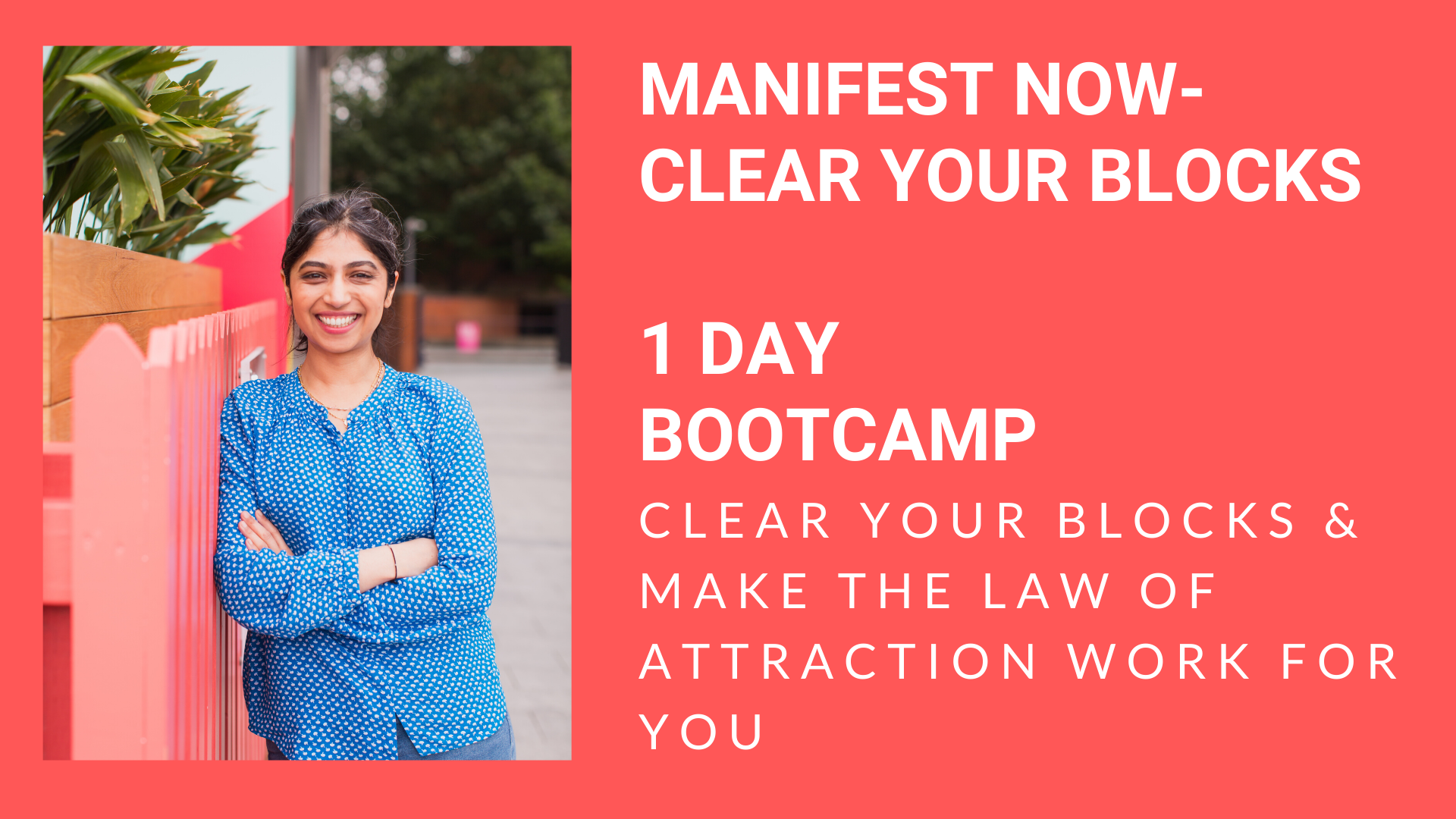 Image from eventbrite.com
---
What other people say about me:
"I have uncovered so many hidden blocks in just one session and realised how I self sabotage. Thank you!"
"I've never met a coach as passionate as Pooja. She has so much expertise, which means I really trust her. She's super friendly and made me feel extremely comfortable. I learned more about manifestation in the 2 hours with Pooja than I have in years of listening to podcasts and YouTube videos about manifestation".
"Loved today, I feel confident using these strategies for the first time in years. Thank you!"
"I've been attending Pooja's life coaching and meditation sessions and I consistently leave feeling uplifted, energised and full of learnings. Pooja's background as a solicitor and holistic life coach is refreshing and especially relevant as she understands the needs of the busy, successful working professional. She has helped me gain a broader understanding of key topics such as life purpose, energy, attitude to money, the emotional spectrum, stress and consciousness. "
"I've been attending Pooja's group learning sessions and she is a very pleasant and likeable teacher, I'd highly recommend her to anyone! She manages to engage you through fun and practical exercises, which help you to start thinking about important topics - such as what your deeper motivations are, and how to restore your energy."
"I am working with Pooja on an ongoing basis. She's helped me understand my values and for me to ascertain my goals. She keeps me accountable to my word and I love working with her. I'd highly recommend her to anyone looking to make a change to better themselves."
"I've been working with Pooja now for a little over four months having been referred to her by someone close to me. She really is born to do this work. There is a light that shines through her that is illuminating and divine. The work we are doing together is helping me in all areas of my life as particularly as a father, husband and entrepreneur. Thank you."
"Pooja is a naturally gifted coach who has honed her innate abilities to a fine point. She uses a combination of intuition, powerfully channelled energy and carefully honed skill and knowledge to zoom in on exactly what blocks I face. [..]I've discovered what drives me to want to start my own business, and have the tools to start—something I'd been trying to do for three years before I started working with Pooja. Thank you, Pooja, for helping me to rediscover my passion!"
"Pooja coached me in life changing strategies to overcome the challenges I had faced for years, and was there for me every step of the way while I noticeably grew and became stronger and more confident with these strategies. She has a beautifully kind and pure heart, however at the same time is strong enough to push back when it will benefit her client".
"Coaching with Pooja is like having a breather from all the noise and pollution - and being allowed to go deep into myself and explore. It has brought about clarity and inner strength and made my life more joyful. It is like hitting the reset button"
'I would definitely recommend Pooja to anyone who wants to change direction in life, feels stuck or just wants to improve themselves in general …'
Are you working with the law of attraction and finding that things just aren't showing up?
Do you feel blocked or stuck and not know how to change things?
Come along to this 1-day guided bootcamp experience to help you make the law of attraction work for you. You will discover what is getting in your way.
Following on from the success of Pooja's 2 hour workshops, she has created this 1 day bootcamp experience to go even further and deeper to help you clear your blocks to manifestation so that you can have the life you want.
You will be guided through transformational exercises, visualisations and practices designed to help you clear your blocks. You can use these exercises afterwards in your day-to-day life.
Pooja's approach combines the best law of attraction, yoga and coaching techniques so that you can manifest the life you deserve. Her approach is extremely practical and you will uncover blocks you may have had for years.
We have designed the day so that it's filled with the best tips, tricks, strategies and techniques to apply every single day, so that your manifestation powers are SUPERCHARGED! We will also make sure it's fun, engaging and so that you have the chance to connect with others on their manifestation journey.
OUTLINE OF THE DAY
Morning session:
Getting clear on what you really want - connecting with the most powerful creation energy in your body
Visualisation made easy - what to if you find it hard so you never struggle again
Meeting the supportive voice within to help you through any tough spots
Identifying the gaps between where you are now and where you want
Afternoon session:
Letting go of limiting beliefs - how to shift those blocks forever
Using the chakras and physical body for manifestation
A daily routine - a step-by-step guide of what do do each morning and evening to make sure you embed the learning into your mind and heart
Each attendee will also get ALL of the following:
*Invitation to the Inlighten Manifestation Community via the private Facebook group for attendees to keep in touch and support each other after the event
*Access to all recordings of the visualisations experienced on the day, so you can keep listening every day
*Personal workbook for each attendee with additional exercises to work on after the event
*A resources list of Pooja's favourite books, videos and podcasts on applying the law of attraction and mastering manifestation - these alone will keep you busy for months after the event, with further tips to try
*15% off any one-to-one coaching package with Pooja
You will walk away with:
-A connection to the version of you who has already manifested the life you want
-A daily routine to implement immediately after the event
-A personal workbook to record your learning, with exercises to work on after the event
-A feeling of empowerment and hope
-Loads of insights about how you are getting in your way: this could be because of a deep seated lack of belief; not really feeling into your manifestations; listening to the wrong voice in your head; getting caught up in temporary delays; and so much more!
Come and join Meditation Teacher, Lawyer and Energy Coach, Pooja Dhiman of InLighten Life Coaching to understand how manifestation really works and what is getting in your way. www.inlighten.life
DETAILS:
Date: Saturday 25 April 2020 at 10.30pm - 5.00pm
Venue: 22 Upper Ground South Bank London SE1 9PD
** Note that the venue is subject to change. You will be informed in advance if the venue changes.
Times: Please arrive at 10.15am for a prompt start at 10.30am
Cost: £139 (early bird discount until 15 April - £105)
If you would like to join the mailing list to be informed of future events , webinars and coaching sessions, please contact us on:inlightenlifecoaching@gmail.com
Please feel free share this event on Facebook and Twitter and invite your friends.
I look forward to seeing you there!
FAQs:
Who is this event for?
This event is for successful professionals who feel stuck in life or cannot create what they want and are curious about alchemy, energy and the law of attraction. You might be a professional working in the City, or an entrepreneur, or a parent looking to create the life of your dreams.
This event is for people who know there is more out there and who are curious about how to tap untapped potential.
What can I expect?
This is a small group experience, held at Inlighten's offices in which the host, Pooja, will guide you through a series of group discussions and exercises to help uncover your blocks. These blocks are likely subconscious and you will definitely leave with some a-ha moments about yourself!
Can I bring a friend?
Absolutely! You need to buy a ticket for every person attending with you though because spaces are limited.
How many spots are there?
15 spots available. We like to keep these bootcamps small and intimate, so that people have the chance to connect and so that Pooja can coach each person in the room on the day.
Is there food?
There will be complimentary tea, coffee, water and biscuits available.
Who is the host?
Pooja is the founder of Inlighten Life Coaching. She is an energy coach, qualified solicitor and meditation teacher who works with successful entrepreneurs and high net worth clients, to help them tap their untapped potential and use powerful energetic techniques to change their lives. Pooja's style is warm and engaging and she enables participants to feel comforable and at ease. Using a combination of coaching, mindfulness and energy management techniques, Pooja guides groups to InLightened realisations about themselves. Come along if you're curious. You won't be disappointed. Her approach is unique and powerful.
1358 Views - 24/05/2020 Last update
upper ground 22
wework new kings beam house, london, england, gb
---
Are you an event organizer?
Create events for free. They will be immediately recommended to interested users.
Create event
Nearby hotels and apartments
wework new kings beam house, london, england, gb
---
---
upper ground 22
wework new kings beam house, london, england, gb
Event from
eventbrite.com
---
---
Are you an event organizer?
Create events for free. They will be immediately recommended to interested users.
Create event