London 2 London: Via the World with Sarah Outen
Image from eventbrite.co.uk
---
Sarah Outen is an adventurer by land and sea, bestselling author and motivational speaker. Keen to encourage people outside and enable young people to access adventure, she is a proud ambassador and patron of a number of charities. In November 2015 Sarah completed her most recent major expedition: London2London:Via the World, an attempt to row, cycle and kayak 25000 miles around the Northern Hemisphere. The journey took 4.5 years and was all the richer for not turning out exactly as planned.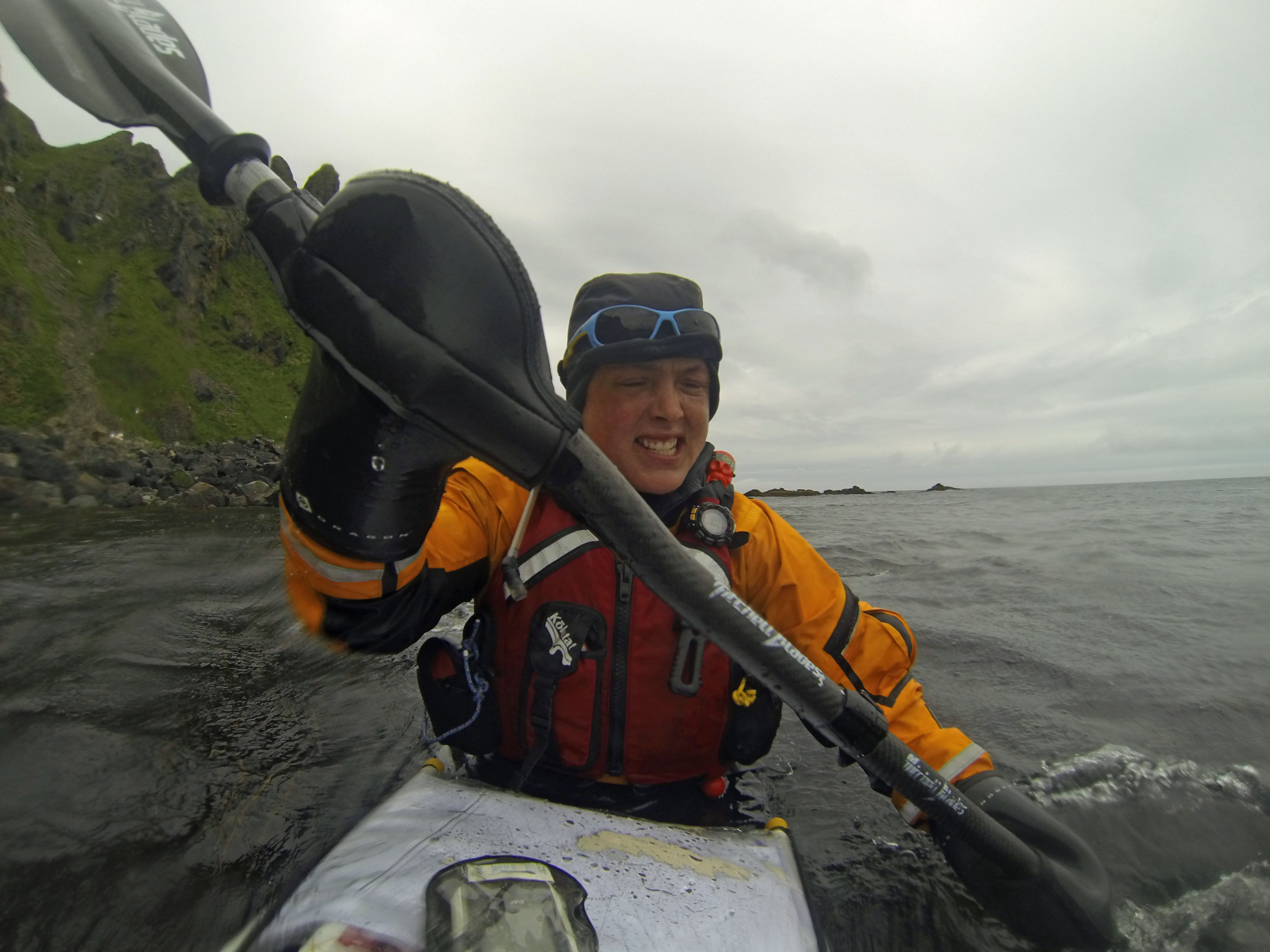 Sarah will be sharing the story of her around the world woman powered journey with us here in Llangollen.
The story
THE START LINE 2011: On 1st April, 2011, Sarah set off on her London2London expedition from London's Tower Bridge and in her kayak, Nelson travelled down the Thames and across the English Channel to France. She was accompanied by sea-kayaking team-mate Justine Curgenven.
PEDALLING EAST:She then jumped on her bicycle, Hercules, and cycled over 10,000 miles through France, Belgium, the Netherlands, Germany, Czech Republic, Poland, Ukraine, Russia, Kazakhstan, China and then back into Russia's wild Far East. It was in China that she was joined by a young man called Goa who, having never really ridden before, cycled over 3000 miles with her on a whim – Goa has come to represent the true spirit of adventure that Sarah wanted to inspire.
A TRICKY CROSSING TO JAPAN:Sarah then used Nelson and Hercules to paddle and cycle her way over 1,000 miles to Japan via the remote island of Sakhalin. She was accompanied by renowned paddler

Justine Curgenven

for this leg.
NORTH PACIFIC ROW 2012:Chapter 1: On 13

th

May, 2012 Sarah set off on her solo row 4,500 miles from Japan to Canada across the mighty North Pacific. But after 25 days at sea, Sarah and her boat, Gulliver were hit by Tropical Storm Mawar. The damage Gulliver sustained as a result of repeatedly capsizing meant that it was not possible to continue the row and Sarah was rescued by the Japan Coast Guard. Shortly afterwards she flew home to the UK.
RECOVERY & REBUILDING:The mental scars from Chapter 1 of the Pacific and its fallout took many months to heal. But Sarah rebuilt her team and the project and returned to Japan in the spring of 2013.
NORTH PACIFIC ROW 2013:Sarah set out from Choshi, Japan in her boat Happy Socks on April 27th, bound for Canada. Four months in and she wasn't even half way, after so many weeks of stormy, contrary weather and impossible currents. With her team, Sarah decided to 'turn left' and made for Adak, in the Aleutian Islands, some 600 miles to the North. One month later, after 150 days alone on the water, Sarah stepped ashore in Alaska after what she describes as her most gruelling expedition yet. Sarah returned home to train for the onwards journey by kayak with her paddling partner Justine Curgenven.
ALASKA 2014: In Spring 2014 Sarah and Justine returned to the Aleutian Islands, Alaska and over the summer kayaked 1500 miles from Adak Island where Sarah had landed in her rowing boat, along the Aleutian Islands and Alasakan Peninsula to Homer. This portion of the journey can be described as 'wind-assisted' as Sarah and Justine used small sails on their kayaks to make their journey safer through the long, rough passes.
NORTH AMERICA 2014/15: 2 weeks after finishing the paddling mission, Sarah set off from Homer on her bike Hercules to cycle from the Pacific to the Atlantic coasts. Cycling through one of the worst winters on record, it took Sarah 7 months to reach Cape Cod, Massachusetts where she is now preparing for her Atlantic row.
NORTH ATLANTIC ROW 2015 Sarah spent four months alone rowing across the North Atlantic Ocean from Cape Cod on the East Coast of the USA. But poor weather and the threat of potentially life threatening conditions from the tail end of Hurricane Joaquin saw Sarah call fro a pick up. She was 1000 miles from her UK destination. She was forced to leave her boat Happy Socks at sea*.
THE UK HOME STRETCH: In late October 2015 Sarah set off on her bike from Falmouth with friends, family and supporters and spent the next two weeks cycling up to Oxofrd. From there she was back in the kayak winding her way up the Thames
LONDON'S TOWER BRIDGE 2015: On the 3

rd

November 2015 Sarah kayaked under Tower Bridge to complete her 4.5 year, 25,000 mile London2London expedition.
35 Views - 20/10/2019 Last update
St Collens Community Hall
Regent Street, Llangollen, Wales, GB
---
Are you an event organizer?
Create events for free. They will be immediately recommended to interested users.
Create event
Nearby hotels and apartments
Regent Street, Llangollen, Wales, GB
---
---
St Collens Community Hall
Regent Street, Llangollen, Wales, GB
Event from
eventbrite.co.uk
---
---
Are you an event organizer?
Create events for free. They will be immediately recommended to interested users.
Create event
Wrexham

›