The Laureate's Choice Poets with Hera Lindsay Bird
Thursday 17 May 2018 7:30 PM Thursday 17 May 2018 9:30 PM
Save
Saved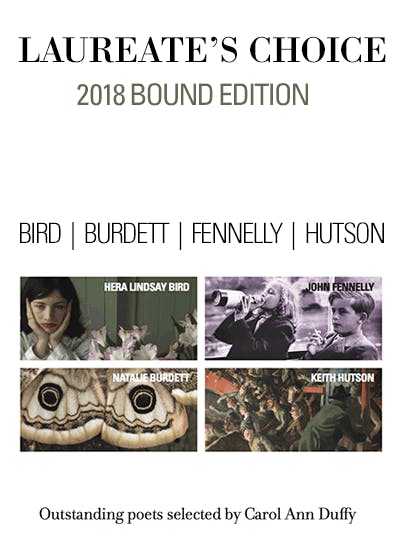 Last update 18/05/2018
579
Tickets £8 / £6 (concs) available at Eventbrite 
The Laureate's Choice Poets are four up-and-coming poets chosen by Carol Ann Duffy as poets to watch. We're celebrating with a one-of-a-kind reading with all four poets, including Hera Lindsay Bird all the way from New Zealand! 
*Warning: this reading will contain some (but not much) explicit content. Email office@poetrybusiness.co.uk for more info.*
smith|doorstop Books present the Laureate's Choice poets 2018, four up-and-coming poets chosen by Carol Ann Duffy.
The poets in attendance are :
Keith Hutson has written for Coronation Street and many well know comedians. His poetry has been widely published in journals, and his debut pamphlet, Routines, was published in 2016 by Poetry Salzburg (where he is now a member of the editorial board)
Natalie Burdett is a poet from the West Midlands. Her poetry is widely published in anthologies and magazines and has been shortlisted for The London Magazine and Bridport prizes.
John Fennelly is 'House Poet' at Manchester Metropolitan University's Writing School. He is a poet, teacher, and workshop facilitator and has been published in various magazines and commended in the Bridport and Bare Fiction Prizes.
Hera Lindsay Bird is a poet from New Zealand. Her debut collection Hera Lindsay Bird has become a cult best-seller in her own country, and was released by Penguin UK in 2017. She has won the 2017 Sarah Broom Prize and the Ockham Best First Poetry Book Award.
Four fantastic poets reading from their pamphlets. We hope you can join us.
culture
education
collecting
workshop
Nearby hotels and apartments
Theatre Deli
Sheffield, England, United Kingdom
Sheffield, England, United Kingdom