Inbound Plus Digital Strategy Workshop - Sponsored By HubSpot
COVID-19: many events have been canceled or postponed, please check with the organizer the event status.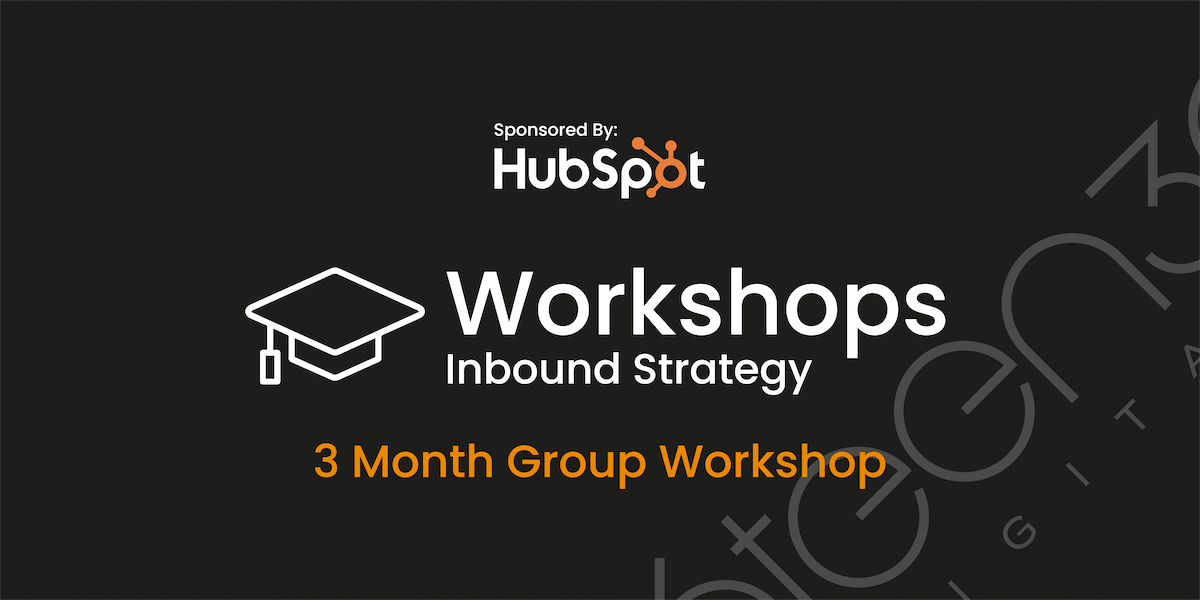 Image from eventbrite.com
---
*The Workshop does not include the subscription to your HubSpot Marketing Pro Subscription, this will be invoiced to you directly by HubSpot starting from £655 p/m from Month 1. 6teen30 Digital will arrange the HubSpot order for you as part of your onboarding if you do not already have HubSpot.
A Databox Analytics SaaS Subscription is optional for Workshop Plus and is charged at £40 p/m from Month 1.
For Full Workshop Details, FAQs and Terms and Conditions:
Pleas visit https://www.6teen30.com/inbound-events-leeds
Disclosure:
This workshop event is not in association with, hosted by or sponsored by Leeds Beckett University, 6teen30 Digital hire rooms under a commercial agreement to deliver the events due to the convenience of a Leeds central location, room specification and overall suitability to deliver the best environment for our delegates.
Workshop Modules
HubSpot CRM & Marketing Pro Set Up - Correctly set up your HubSpot Pro application ready to build your inbound digital strategy inside.
Audit Analysis Workshop - Undertake a full audit of your current activities to establish a baseline of what is working, what isn't and what's missing.
Fast Track Workshop - Create a tactical style shot in the arm top of the funnel lead generation campaign.
Entrepreneur Focus Workshop - Involves detailed research and creation of your buyer personas, buyer journeys, content strategy and assistance to define your SMART goals.
Power of Alignment Playbook Workshop - Bring together your strategic considerations into a playbook that is ready to be executed upon.
-------------------------------------------------------------
The Workshop Investment
For full access for one delegate to the 90 Day program, including reserved workshop attendance, online support and lifetime membership to the Growth Engine Community.
The investment is £1,500 + VAT* and can be spread over 3 Easy Monthly in Advance Payments of £500 + VAT. Book 3 Easy Payments at https://www.6teen30.com/inbound-events-leeds
Quarter 2 - 2020 Workshop Plus
Starts: 06/04/2020
Location: Leeds Becket University - Rosebowl Building
- Room TBA Closer to Event Start Date
-------------------------------------------------------------
Enrol in our Inbound Workshop Plus to increase your knowledge and execution skills across all aspects of Inbound to apply in your own business.
These 'done with you' workshops follow pre structured agendas and monthly modules and are available in our Leeds, West Yorkshire Classroom where we deliver group learning experiences.
Delivered through 6 half day workshops supported by zoom calls and webinars over a 90 Day Period, with lifetime membership to the growth engine community app to help you complete the four core workshop modules of Inbound Digital Strategy and create your Playbook detailing your Inbound strategy and campaigns ready for you to self build inside your HubSpot application.
Inbound Plus Digital Strategy Workshops ensure you drive your marketing efforts the Inbound way and have confidence that your Inbound efforts are targeted in the right direction:
-------------------------------------------------------------
Who Is This For?
The Ideal Company:
One who is looking to Grow Faster and understand how to build a Digital Strategy the Inbound way.
The Inbound Digital Strategy Workshop Plus is ideal for Digitally focused businesses who are looking to build an Inbound Strategy for their Inbound Marketing to then self implement the execution in HubSpot form the Playbooks that are created through the 90-day workshop.
The Ideal Attendee:
Due to the nature of digital strategic development, it requires in almost every instance some level of business remodelling to accommodate Inbound at the ownership level of the business.
The person who is responsible for the overall business strategy (or the Marketing strategy) who can influence and make decisions to positively change and adopt Inbound including the financial investments required to attend the workshop, also the investments to execute and build the marketing campaigns once the strategy is completed.
Typical job roles titles [provided for example only] would be:
CEO, Managing Director, Marketing Director, Owner, Senior Partner, Marketing Manager.
Optional Combined Attendance
Often a C-Suite decision-maker would attend for the strategic development and purchase a second seat for their colleague to attend who would be implementing the marketing campaigns built from the strategy.
Typical secondary style implementer job role titles [provided for example only] would be:
Marketing Manager, Marketing Executive, Web Developer, Content Creator, Other Tech-based or marketing roles.
-------------------------------------------------------------
What You Will Learn?
HubSpot Skill Development
Throughout the workshop firstly you will learn how to set up your HubSpot CRM and Marketing Pro app to align with your business operating requirements.
Digital Inbound Strategy Skill Development
With the HubSpot app set up correctly, you will learn how to correctly approach building an inbound digital strategy for your business.
Including learning how to
Audit historical performance to establish a baseline to move forward from
Setting SMART Marketing Goals
Calculating traffic, leads and conversions to meet your SMART goals
Develop Your Buyer Personas
Develop Your Buyer Journeys
Develop Your Pillar & Cluster-Based Content Strategy
Develop Your Social and Ads Strategy
Develop Your Marketing Campaign Strategy Asset List across all three areas of Awareness - Consideration and Decision stages.
Create a Playbook to wireframe your campaigns inside once the course has completed providing a blueprint for you to build and continue to develop these.
Measure Inbound with Analytics
-------------------------------------------------------------
Course Duration & Modules
Workshop Duration:
The Course is delivered over 90 days.
Delivered through 6 half-day workshops [2 p/m] supported by zoom calls and webinars.
Includes Lifetime Membership to the online Growth Engine Community.
1670 Views - 07/04/2020 Last update
Leeds Beckett University
Rosebowl Building - Room TBA, Leeds, West Yorkshire, GB
---
Are you an event organizer?
Create events for free. They will be immediately recommended to interested users.
Create event
Nearby hotels and apartments
Rosebowl Building - Room TBA, Leeds, West Yorkshire, GB
---
---
Leeds Beckett University
Rosebowl Building - Room TBA, Leeds, West Yorkshire, GB
Event from
eventbrite.com
---
---
Are you an event organizer?
Create events for free. They will be immediately recommended to interested users.
Create event
Leeds

›