Geographic Information Systems: from data to decision making
Monday 19 February 2018 4:00 PM Friday 23 February 2018 6:00 PM
Save
Saved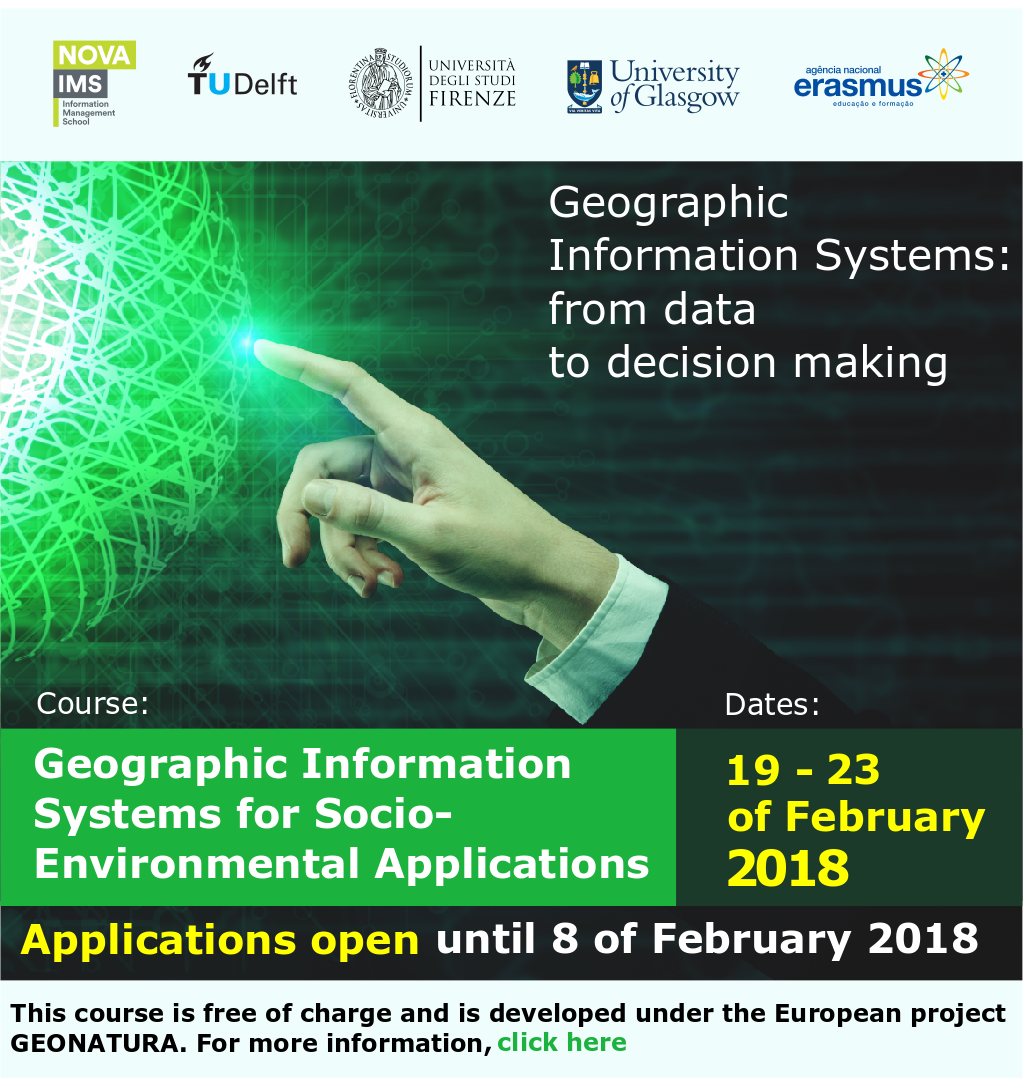 Last update 24/02/2018
3909
What are the advantages derived from the use of geographic information in social and environmental applications? Which sectors of society benefit from the use of geographical information systems (GIS) and which sectors are potential employers? What is the current state and future trends of GIS applications? The answer to these and other questions is the basis for the development of a GIS initiation program developed under the European Union funded GEONATURA project in partnership with the Universidade Nova de Lisboa, Portugal; TU Delft, Netherlands; and the University of Florence, Italy. At the end of the course, participants should be able to acquire data, model, analyse and develop a GIS application in the context of socio-environmental issues.
This course lasts 5 days (19th - 23rd February 2018, 16:00 - 18:00) and is free of charge. Lecture components will be delivered online and the practical components will be delivered in person during the afternoons. It is aimed at those with little or no background knowledge in GIS. Places are limited to 20 applicants and 10 of these will get the opportunity to attend the 2nd phase of the course (also free of charge) at the University of Glasgow between April 9-13, 2018 that will be delivered by Professors from the four partner universities (Universidade Nova de Lisboa, TU Delft, University of Florence, and University of Glasgow).
The course is available to students or staff registered at a UK Higher Education institution.
If the event is sold out, please contact me if you would like to be placed on a waiting list in case spaces become available.
Application Deadline - 8th February 201
Further details on the Geonatura project can be found here
Nearby hotels and apartments
School of Geographical & Earth Sciences
University of Glasgow, United Kingdom
School of Geographical & Earth Sciences
University of Glasgow, United Kingdom