Full Moon OM Chanting - Birmingham - CANCELLED
COVID-19: many events have been canceled or postponed, please check with the organizer the event status.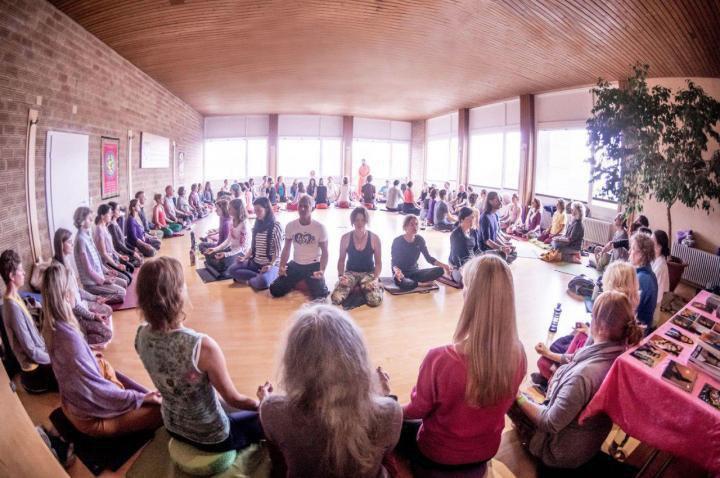 Image from eventbrite.com
---
ALL BHAKTI MARGA UK EVENTS/ ACTIVITIES CANCELLED - CORONOVIRUS UPDATE
Jai Gurudev,
Due to the escalating Coronovirus Pandemic around the world, all Bhakti Marga activities will be cancelled for the foreseeable future.
If anything changes, we will keep you updated and informed of any development in this matter. Thank you for your understanding!
Much Love
Bhakti Marga UK
BMUKevents@bhaktimarga.org
Follow @BhaktiMargaUK on Instagram and Twitter, Facebook
OM Chanting is a group practice that uses the transformational power of OM to activate your self-healing potential.
Benefits of OM Chanting:
• Activates self-healing
• Transforms negativity into positive energy
• Purifies the environment through the OM vibration
Ideal for those who are
• Intending to support themselves, others, and Mother Earth
• Interested in the transformative power of OM
How long does the practice take?
• 1-hour event
• Recommended weekly or monthly; ideally as often as possible
What is required to learn the practice?
• Attend a 1-hour event
How much does it cost?
• Free: donations appreciated
WHY IS OM CHANTING POWERFUL?

OM is the primordial and highest sound or vibration, the source of all other sounds. Illness is an imbalance in the body's vibration. By using OM as the highest vibration, one can heal the body. Many people have powerful experiences during OM Chanting.
HOW OM CHANTING WORKS?
OM Chanting circles are done using a unique combination of seating in concentric circles, continuous chanting of OM and the presence of a Chanting Organiser. Bottles of water brought into the circle are transformed with the same energy and can be taken away as healing water. This practice is open to all ages.
OM CHANTING IS OPEN TO EVERYONE
• No previous experience is required.
• OM Chanting is not a faith-based practice, but all faiths are welcomed, as well as those who have no interest in spirituality.
• The only requirement is that you must be able to sit(either on the floor or in a chair) and repeatedly chant OM (at your own pace) for the entire circle time (usually 45 minutes).
• Children may sit on a parent's lap, as long as they do not disturb others.
• This practice is not recommended for those with a history of serious mental illness, or anyone under the influence of alcohol or recreational drugs.
• A Blessing Box is present in every circle. You are invited toput the names of those in need of healing support into the box to Request Healing Support.
• It is important to only practice OM Chanting with a blessed Organiser present. Only those blessed to lead the group can call upon the Masters to help transform the negativity that is released during the practice.
DETAILS
Arrive by:18:15 (prompt start time of 18:30)
What to bring: bottle of water and cushion (chairs will be provided)
For more details, please contact Saraswati Dasi (Sarah) on 07436011833 or email sjparker157@yahoo.co.uk or Lakshmi Dasi (Linda) on 07853071762 or email lindamckieman@hotmail.com
To preserve the energetic integrity of the circle, once chanting has started, participants arriving after the start time will be asked to sit on the outside of the circle. If you are running late, please let the OMC Organiser know – if it is only a few minutes, they might be able to wait for you.
Bhakti Marga offers several meditative and physical yoga practices to support different needs, interest and lifestyles. Visit us on bhaktimarga.co.uk/sadhana
1671 Views - 09/04/2020 Last update
Karma Centre
1 High Street, Birmingham, England, GB
---
Are you an event organizer?
Create events for free. They will be immediately recommended to interested users.
Create event
Nearby hotels and apartments
1 High Street, Birmingham, England, GB
---
---
Karma Centre
1 High Street, Birmingham, England, GB
Event from
eventbrite.com
---
---
Are you an event organizer?
Create events for free. They will be immediately recommended to interested users.
Create event