Ecstatic Dance UK - SUN•DAY Feb 17
Sunday 17 February 2019 10:00 AM Sunday 17 February 2019 1:00 PM
Save
Saved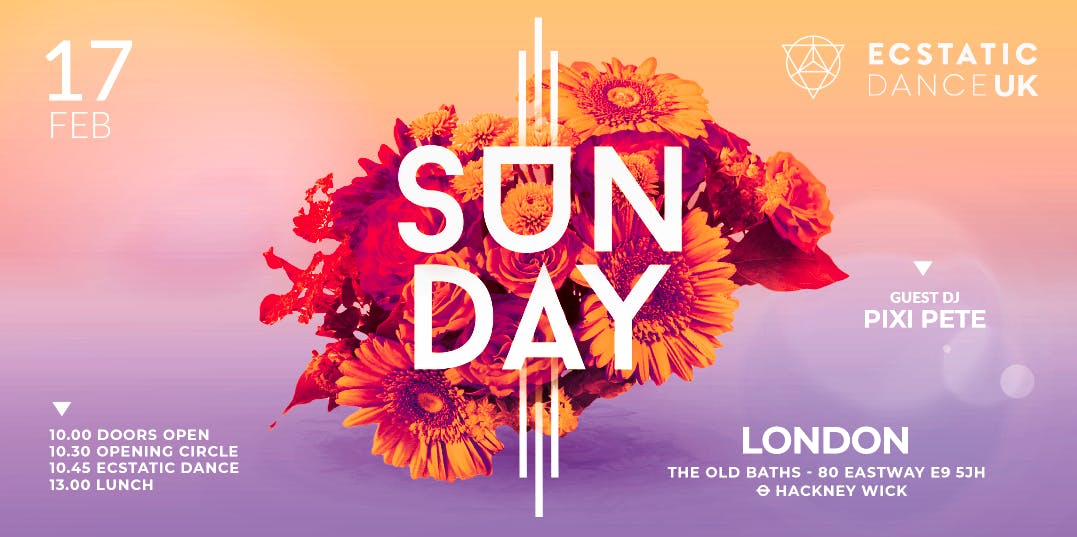 Last update 18/02/2019
14
London's first and only Sunday morning Ecstatic Dance! Come and join us for our fifth edition with our guest DJ Pixi Pete
FORMAT
10.00 Doors open / Warm-up music
10.30 Opening circle
10.45 Ecstatic Dance
12.45 Sound healing + closing circle
13.00 Lunch (optional)
GUEST DJ: PIXI PETE
DJ and General Joy Ambassador for the world, Devon-based Pixi Pete started out as a Bedroom DJ on traditional turntables before finding his feet on digital controllers. Mixing in live drumming with world-class beats, he is sure to bring life to any party. He holds space for Dance Medicine in Glastonbury and is always a festival favourite. He describes his style as a 'unique journey through space, time and genres to give you something new and exciting, as well as something old and nostalgic. And be prepared for a surprise...'. Curious? Check out his sets here!


WHAT IS ECSTATIC DANCE?
ED is a type of free-form dancing inviting people to connect to themselves and to others through music and movement. It takes places over a 2-hour live DJ set and starts and finishes with a short opening and closing circle led by a Ceremony Leader. There are no teacher or rules, but we ask you to follow a few guidelines:
1. No talking. ED is a silent practice -you are welcome to communicate with others with your body language, but please keep words outside the space.
2. No shoes. Barefoot dancing helps us ground ourselves by creating direct contact between our feet and the floor. ED is best practiced barefoot but you can also wear socks if you wish to.
3. No drugs/alcohol. ED is a conscious practice embracing mindfulness.
4. Phone-free zone. Please keep your phones off/silent and out of sight.
5. Respect of self and other. We ask participants to take responsability for themselves, but also to watch out for others and be mindful of their personal space.
Q&A
-What to bring? You will most likely sweat, so bring a large water bottle (preferably reusable, we've put enough plastic on this planet) and a travel/camping mug for the complimentary herbal tea
-What to wear? Dress in layers. Our events are judgement-free spaces, so feel free to dress however you wish, whether it's a t-shirt and leggings or a fully-sequined catsuit. As long as you're comfortable, anything goes!
-What kind of music? ED music is eclectic and not linked to any specific genre. We start with ambient, chillout tunes then bring you on an ecstatic journey with electronica, EDM, world music and ethnic beats before bringing you back down with downtempo tracks and finish with a gentle sound bath.
THE CAFÉ
The Old Baths Café will be open from 9.30 am on the day. You are most welcomed to stay over after the event for a well-deserved post-dance lunch and make new friends.
PRICE
£11.00 Early Bird
£12.50 Regular
£15.00 On the door
RSVP on FB to get the latest updates: https://www.facebook.com/events/1145803132268280/
We can't wait to see you there!
Renée & the Ecstatic Dance UK team
music
discos
food
festivals
courses
electronic
party
education
Travel
Nearby hotels and apartments
The Old Baths
80 Eastway, London, England, United Kingdom
80 Eastway, London, England, United Kingdom