How to develop radical confidence, self-belief and get what you want
Saturday 27 April 2019 10:30 AM Saturday 27 April 2019 1:30 PM
Save
Saved
Last update 28/04/2019
2544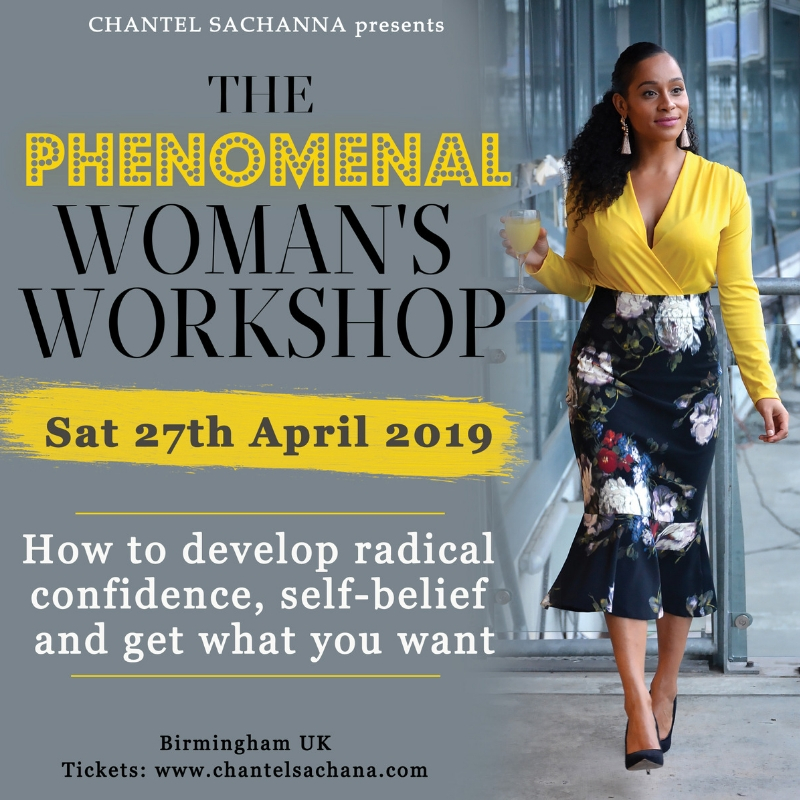 The Phenomenal Woman's Workshop is a powerful monthly workshop series delivered by the highly requested Women's Empowerment Coach, Chantel Sachanna.
Are you ready to finally learn how to develop radical confidence, self-belief and get what you want?
'How to develop radical confidence, self-belief and get what you want' will give you the wisdom and tools to grow your levels of confidence, self-belief, self-worth and to develop the mindset to attract and achieve the things you desire.
This workshop is for the ambitious go-getting woman, change-maker, entrepreneur, expert, artist, leader and innovator who is ready to take the next important step in her life.
During this workshop you will receive powerful training, beautiful mind shifts, deep connections and unique opportunities to multiply your impact so that you can play bigger in the world and achieve more.
Please note: This workshop will begin on time, at 10:30am prompt.
Standard Entry: £24
VIP Experience: £90 - This ticket includes an exclusive VIP day with Chantel Sachanna in a luxurious Birmingham location. You will meet with Chantel personally on a one-to-one basis for an intensive goal setting session where she will support you to set clear, concise and measurable goals to move you closer to living the life you deserve and becoming the woman you were born to be.
BE WARNED - This is an intensive workshop designed to create fast and sustainable results for you and your life. You will dig deep into the above subject and Chantel Sachanna will share her potent tools to help you leave the day with an actionable, tangible and usable plan which will transform your results by simply consistently implementing. Chantel Sachanna's coaching model has vastly improved the results of successful entrepreneurs, business owners and ordinary people wanting to live a more fulfilled life.
For more about Chantel Sachanna, visit: www.chantelsachanna.com or www.instagram.com/chantelsachanna
concerts
sports
business
workshop
Nearby hotels and apartments
10 Halesowen Street
Oldbury, West Midlands, England, United Kingdom
Oldbury, West Midlands, England, United Kingdom
Event from
eventbrite.com