Amazing 360° Gong Sound Bath Experience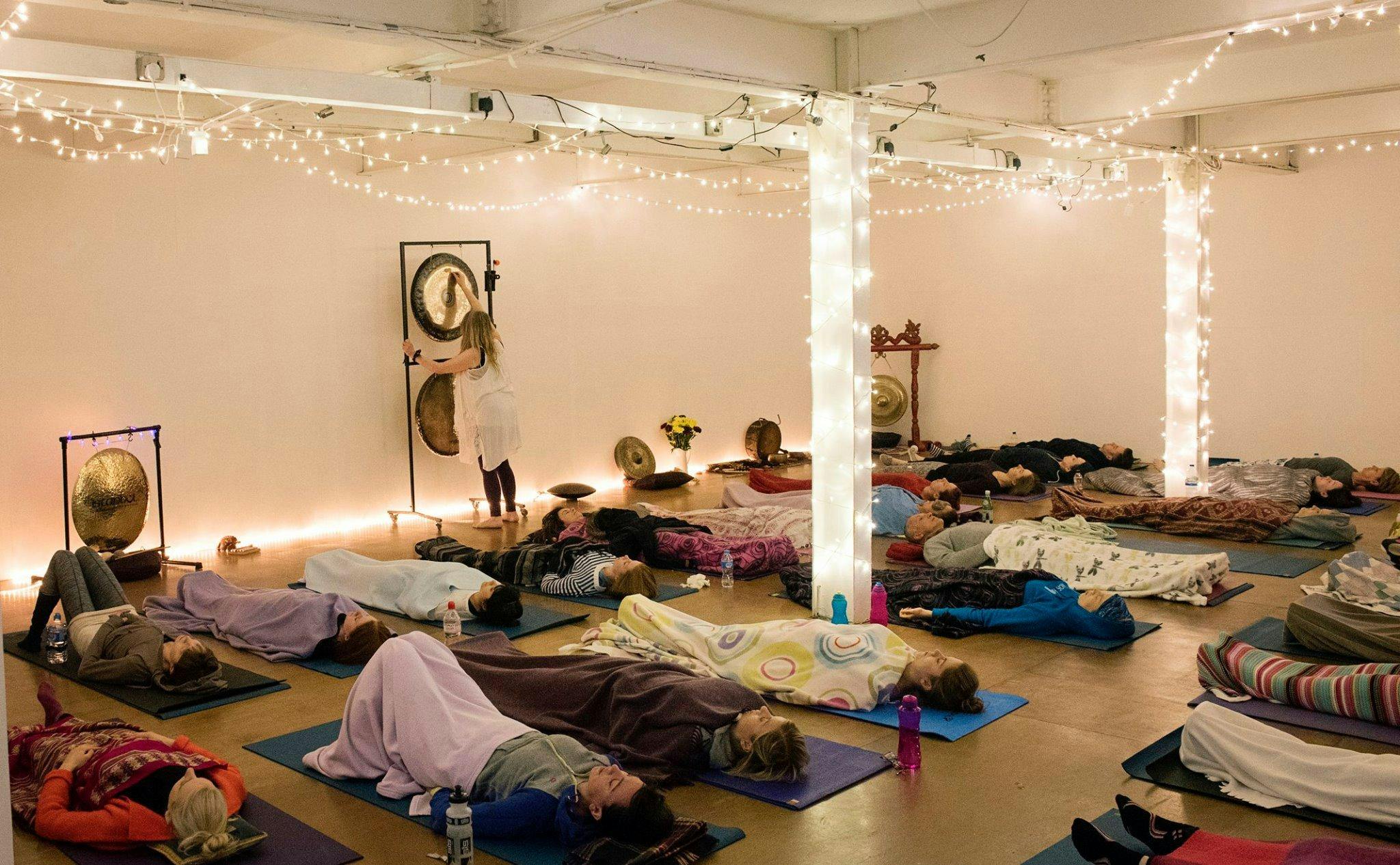 Image from eventbrite.co.uk
---
Amazing 360° Gong Sound Bath Experience
Monthly Chill out for the Soul
Your Monthly M.O.T. Method of Transformation
Come and experience the amazing vibrations of a full Gong Sound Bath. Take a journey with the ancient Gong, voice and a host of other musical instruments. Enjoy a deeply moving and relaxing experience through sound for your mind, body and spirit to bring pure bliss.
Geordie Gong artist Gill Gosling of Dragonfly Gong Yoga is offering this life harmonising experience monthly in the wonderful auditorium space at The Exchange, at Howard Street, North Shields, Tyne and Wear. This is Gill's third year at this superb community arts and theatre venue.
Sound baths help promote a more positive outlook on life while bringing participants balance and harmony. Those taking part in sound baths report many benefits including that it: * helps relieve depression, anxiety and stress, * they gain better sleep, * they have an overall sense of wellbeing, * they have energy boosts and a life re-charge, * they are deeply moved and often encounter wonderful 'spiritual' experiences.
Starting Sunday,
Allow the sounds of Gill's 12 Gongs, voice, singing bowls, drums, flutes, conch shells, chimes, shruti, harmonium and rattles to wash over you as you bathe in the wonderful harmonics of these awesome ancient instruments.
Music for the soul.
This is a whole body adventure, a musical journey for the soul. You will listen not just with the ears but with every cell in your body for a life recharge. You lay down nestled in cosy blankets on the floor, or seated in a chair, to feel the vibrations on offer.
There will be warm ups based on yoga using gentle breathing practices, sound, movement, yoga dance, sometioms sufi twirling before experiencing the full 45-minute sound immersion.
Sound has been used by shamanic trraditions and cultures throughout history to help bring wholeness back to a body and today the rapid emergence once more of Gong Sound Baths is showing us all new ways of just being human. Eastrn traditions are helping Western lives.
Gill has trained with Gong maestro Don Conreaux for more than 13 years and loves to share her passion for sound with all. She has studied in depth the power of sound in life. She has trained with the College of Sound Healing UK as a tutor, and as a sound healing and gong practitioner. She has also trained with Fabian Maman (known as the God Father of Sound Healing) through his Tama-Do Academy. She has also followed the work of Joanathan Goldman from the USA.
Gill continues to study and research and is spurred on to learn more and more about how sound actually creates our holographic lives. A writer and a former journalist. She is a Yogi - a yoga teacher, a meditation and a mindfulness teacher. Gill has developed her own style of Dragonfly Gong Yoga merging her many yoga teachings and stuies which include the British Wheel of Yoga, Kundalini, Sivananda, Dru, Ashtanga, and the amazing Yogabeats way with yogi elder David Sye. She has followed a personal Transcendental Meditation practice for 34 years and took up yoga at nine-years-old. Her passion is to help people tune in to their lives through regular workshops in sound to help "free their voice" and create full healthy lives.
"The Gong is a powerful tool for transformation on all levels," Gill says.
"Not everyone is a musician but everyone IS a musician of their own life," Gill says.
"I absolutely adore my work and how it has shown me a wonderful pathway to live my life. By using musical instruments like the ancient Gong and Himalayan singing bowls we can dig deep into total relaxation to be with the joy of our life's true destiny. Each and every one of us is different with a uniqueness of our own.
"I believe understanding the balance of sound and silence can help many overcome the mega challenges we are facing in today's fast paced, stress forming world. This work effects us all at a cellular level. I know this has helped me find true happiness to handle whatever path I choose to follow and I want to share this love-unfolding technique with others. By bathing in sounds we tune ourselves to life itself," she added.
This is an amazing journey for just £15 – Contact Gill direct for more information if you need it. She wants this to be open to all who will benefit greatly from this experience. Tel. 0191 253 0329 mobile 07706 223209
Blankets, yoga mats and cushions available. Please bring your own if you have them. Water and other refreshments available. Plus an after gathering in the Exchange's cafe bar to help develop freindship and community with like-minded people.
How to get there:
The venue is at the bottom of Howard Street, off Northumberland Square, it used to be called the Saville Exchange.
Metro - The venue is only a four-minute walk from North Shields Metro station.
Car Parking - Spaces are available on street near the venue and around Northumberland Square (free on Sundays). There is a free car park behind the venue.
Gong Bath photos taken by Gill Gosling and photographers Paula Smart of Wild Hearts Photography, Diane Holdsworth of Diane Holdsworth Photography and Sandra Gill. Thank you.
40 Views - 14/10/2019 Last update
The Exchange
Howard Street, North Shields, England, GB
---
Are you an event organizer?
Create events for free. They will be immediately recommended to interested users.
Create event
Nearby hotels and apartments
Howard Street, North Shields, England, GB
---
---
The Exchange
Howard Street, North Shields, England, GB
Event from
eventbrite.co.uk
---
---
Are you an event organizer?
Create events for free. They will be immediately recommended to interested users.
Create event