Agile Team Coach (ICP-ACC) | Manchester
COVID-19: many events have been canceled or postponed, please check with the organizer the event status.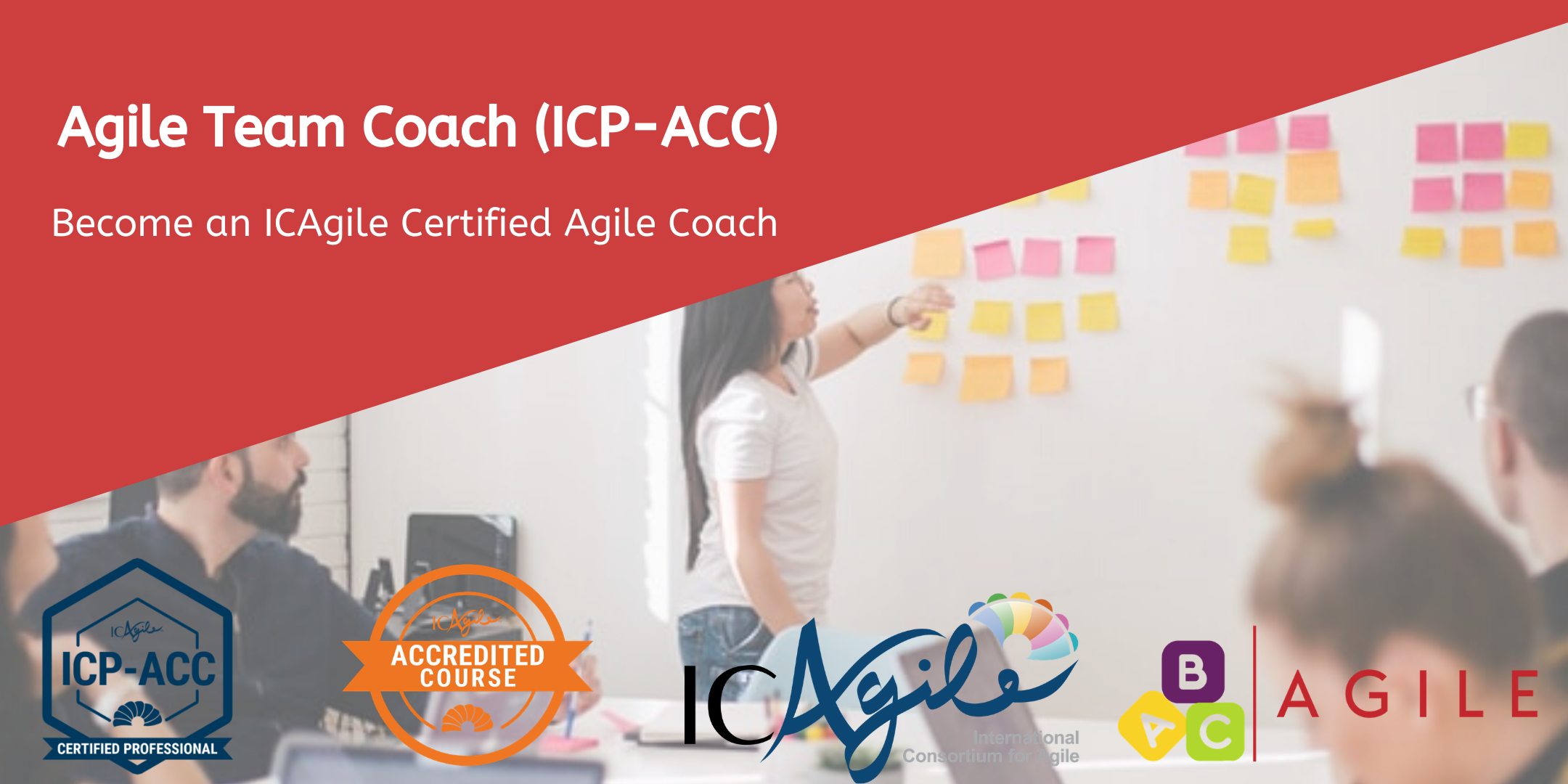 Image from eventbrite.com
From Wed 8 April 2020 to Fri 10 April 2020
From Wednesday 8 April 2020 to Friday 10 April 2020
---
Long live immersive and experiential workshops!
As certified by the International Consortium of Agile (ICAgile), this course is guaranteed to provide you with a hands-on learning environment so you can apply the proven industry leading strategies when working with Agile teams across any industry, any environment and with any team dynamic.
This 3-Day immersive and interactive experience will allow you to:
Apply Emotional Intelligence techniques to increase personal performance
Leverage Agile Team Frameworks to enhance any teams performance
Teach Agile to teams of people
Apply advanced coaching techniques for coaching conversations
Practise coaching conversations
Practise a variety of different coaching conversation frameworks
Apply methods of facilitating sessions as an Agile Coach
Develop your Agile Coaching mentoring capability
Know how to help people in organisations transition in times of change
Learn 'The Why' behind Agile Transformations
Listen and respond effectively in team and 1:1 coaching sessions
Know when and how to flex your style as an Agile Coach
Apply techniques to nurture any team towards high performance
Apply methods for diagnosing any teams performance
Apply conflict resolution techniques in teams
Approach coaching teams systemically
Know how to kick-off any newly formed agile team
Know how to help teams gain interpersonal synergy
Learn how to influence organisational change in an agile environment
MORE ABOUT THIS COURSE
✅ An international certification developed in partnership with ICAgile
✅ Based on proven and established neuroscience
✅ Small class sizes to maximise individual and group learning
✅ Agile qualification highly respected by employers
ABOUT THE ACCREDITATION:
This course is accredited by the International Consortium for Agile (ICAgile) as fulfilling all Learning Objectives in the Agile Coaching track. After successful completion of this course, you can apply for the ICAgile Certified Professional-Agile Coaching (ICP-ACC). This continuing education certification is a key step toward achieving the ICAgile Expert-Agile Coaching (ICE-AC), the industry's first competence-based certification.
We pride ourselves on our ability to ensure a high pass rate through the way we curate our learning experience. Throughout the 3 days there is an ongoing assessment via practical assessment, which is conducted by the trainers.
You may only not achieve accreditation for two reasons: 1) if you are not able to demonstrate some understanding of the learning objectives 2) if you miss a susbstantial amount of the total course duration.
We have covered the cost of your accreditation and certification in the ticket price. Once you have completed the 3day course you will receive an email from ICAgile providing you with Certification.
FREE STUFF FROM ABC
Twitter | Instagram | Facebook | Soundcloud | LinkedIn
>>Free Agile Coaching session <<
RAYYAN KARIM
Rayyan is an experienced Enterprise Agile Coach, Transformation Coach, Certified Scrum Master and accomplished Agile Trainer. He has worked with global brands, FinTechs, SME's and social enterprises to achieve business agility through their workforce.
Rayyan coaches teams to inspire their workplace, enabling them with the confidence and belief to challenge the status quo using Agile as the conduit. Through relentless experimentation, Rayyan helps organisations to self-organise around their true customers. He is passionate about supporting teams to challenge and transform organisational structures through empirical evidence, so that teams can deliver rapid value to their customer.
Rayyan is the co-founder of ABC Agile, and has significantly influenced the transformation of clients such as ClearBank, Lloyds Banking Group and IBM.
Leaders describe Rayyan as charismatic, energetic, positively disruptive, honest and respectful.
OUR TRAINERS
ADEEL MIRZA
Adeel is an Agile trainer, executive coach and public speaker. He has worked with global brands to acquire business agility and transform them into becoming truly Agile.
Adeel coaches leadership into delivering world-class solutions through organisational transformation of an obsession with delivering value to the customer, restructure of workforce into self-organising teams and replacing top-down hierarchy with an interacting network of teams.
Adeel is the founder of MyAgile.World, co-founder of ABC Agile and has pioneered Agile transformations in FTSE 100 clients such as Rolls Royce and IBM.
Leaders describe Adeel as honest, open, engaged and passionate in his beliefs. His award-winning style has led him to be a sought-after trainer for aspiring Agile coaches all over the world.
Outside of work you will find Adeel working tirelessly for Myriad Foundation, a local charity providing homeless support and community outreach services. He also finds time to write and deliver a weekly sermon to over 200 members of his local mosque.
310 Views - 11/04/2020 Last update
ountain st 53
regus, manchester, england, gb
---
Are you an event organizer?
Create events for free. They will be immediately recommended to interested users.
Create event
Nearby hotels and apartments
regus, manchester, england, gb
---
---
ountain st 53
regus, manchester, england, gb
Event from
eventbrite.com
---
---
Are you an event organizer?
Create events for free. They will be immediately recommended to interested users.
Create event