African Centred Self Mastery Class: Soulfulness for Personal Transformation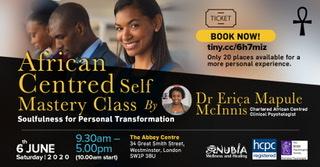 Image from eventbrite.com
---
What you will receive?
Copy of PowerPoint presentation
Worksheets for activities
Interactive experiential workshop with limited number of places for more exclusive experience.
Blended theory and practice for transformative experience
Opportunity to buy 'Know Thy Self - Adinkra Cards' direct from the developer
Accessible Venue
Why should you attend?
Following this Sold Out event in 2019 this event comes to London. NEW material is added for returnees alongside favourites.
There is a dearth of high quality African centred personal mastery workshops. To be African centred is to incorporate the best of traditional African thinking, practices and culture to enhance our wellbeing. Concepts such as Ubuntu 'I am because we are' and Ma'at provide a blueprint for living which can help reach Peak and Flow experiences. High pressure or toxic work, education and living environments can be an everyday intergenerational living hazard. We often prove to ourselves that working hard and climbing the career ladder is not enough to outpace a system of white supremacy and other forms of oppression.
Strategies to encourage Flow experiences, calm the mind, revive, resilience build, feel heard and 'Know Thy Self' are needed particularly for professionals, aspiring professionals and entrepreneurs. Reliance on Eurocentric approaches don't seem to help enough of us quickly enough.
Soulfulness is a novel African Centred Psychology approach to the UK pioneered by Dr Shelly Harrell (Professor of Psychology, Pepperdine University, USA). This work is brought to you by Dr Erica Mapule McInnis of Nubia Wellness and Healing (NWAH) with direct permission from Dr Shelly Harrell. The work of Dr Harrell is uniquely blended by Dr McInnis with some of the latest thinking on how to incorporate such approaches into every day life.
NWAH has a strong record of providing high quality African Centred workshops at city centre venues.
What is included?
Included in your delegate package are:
LUNCH and all refreshments PROVIDED
Professional Delegate Meeting Facilities
Complementary access to WiFi
Advice to delegates
Prior knowledge of African Psychology is desirable but not essential as a recap of key concepts will be given.
Suitable for delegates with all levels of knowledge/ experience of contemplative practices (for example mindfulness or soulfulness). Following introduction/ recap of key concepts, delegates will be invited to work from where they are at.
Some photography and video may take place during the day. Please let the facilitator know if you would not like to be photographed or recorded.
Please let the organiser know of any particular requirements e.g. dietary or accessibility following booking.
Where ?
Enjoy the professional accessible meeting and events facilities of the
The Abbey Centre, 34 Great Smith Street, Westminster, London, SW1P 3BU
The venue is walking distance from Westminster or St James tube station.
Who is this workshop aimed at?
Psychologists (including trainees)
Therapists
Counsellors
Social Workers
Nurses
Teachers
Medics
Psychiatrists
Academics
Healers
Legal professionals
Professionals and aspiring professionals
Corporate and Business owners
Personal Development Coaches
Managers
Students
Those interested in personal growth and development
All cultures welcome . Please note the focus is the Black of African ancestry and multi-racial / biracial British experience.
Your workshop facilitator?
Dr Erica Mapule McInnis is a Doctor of Clinical Psychology (UK) and Director and Principal Chartered Clinical Psychologist with Nubia Wellness and Healing. She is the developer of 'Know Thy Self- Adinkra Cards' a tool for self exploration based on traditional Ashanti culture. She has 22 years experience working for the National Health Service and currently facilitates African psychology seminars, presentations and workshops. She is not just of the people but for the people!
In 2019 she presented at the High Commission for Trinidad and Tobago on the emotional impact of the Windrush scandal (she names Maafa). Dr McInnis was also a keynote speaker at African Liberation Day (Birmingham, UK, 2019). Dr McInnis was a keynote speaker about African Psychology at Kensington Royal Palace in November 2019, such is the diverse interest in this area.
Dr McInnis gained a Winston Churchill Memorial Trust (WCMT) Fellowship in 2016 to travel to Washington D.C. (U.S.A) to further her knowledge of African Centred approaches to wellness and healing in people of African descent. Upon her return she launched Emotional Emancipation Circles (EEC SM), healing groups for the black community in Manchester and London.
Dr McInnis formally introduced African Psychology to Doctorate in Clinical Psychology trainees at: UCL (University College London), University of Oxford, and University of Hertfordshire. She has publications on African Psychology in various journals and book chapters awaiting publication.
Her spirit was illuminated by African Psychology in 2010 and her soul has never looked back! Erica is black British of Jamaican parentage & committed to the journey of African spiritedness and self-development. Black Minds Matter!
She has full membership of the British Psychological Society (BPS) and is a practicing psychologist registered with the Health & Care Professions Council (Hcpc).
Testimonials from delegates to 'African Centred Self Mastery Class - Soulfulness for Personal Transformation' 2019:
- 'Extremely educative and stimulating to listen to and learn from. Inspiration'.
- 'I liked the structure, how it started with the African history and then went through different practices. Also how it resonates with other Eurocentric practices'
- The event seemed very well organised, and depending on subject matter, would attend again'
- 'I liked the reflection activity - the Adinkra cards and the soulful quotes'
- 'The delegate pack was very useful and helped with keeping on track and giving room for reflections/ notes.
- 'I liked the interaction, exercises - putting things into practice, learning the Adinkra cards'
- 'It was informative, fun, contemplative, instructional, held in a nice venue, liked the facilitator's enthusiasm.
Delegates will be inspired and learn:
Who are people of African ancestry in Britain and why we need Soulfulness for Liberation?
What is African Centred Soulfulness*? How does it form a new Mindfulness approach to psychologically transform people of African ancestry and HOMMS (Historically, Oppressed, Marginalised, Minority-status, and/ or Stigmatised groups).
Practice Soulfulness techniques
Experience African Centred Meditations for betterment and personhood.
Learn and Practice using 'Know Thy Self - Adinkra Cards' for self knowledge and illumination of the soul.
Experience quality learning from an African Centred Psychology perspective. All are welcome.
* The concept of Soulfulness was introduced by Dr Shelley Harrell, Professor of Psychology, Pepperdine University (USA) at the Association of Black Psychologists (ABPsi) international convention, Florida 2019 & at previous conferences.
1850 Views - 07/06/2020 Last update
great smith street 34
the abbey centre, london, gb
---
Are you an event organizer?
Create events for free. They will be immediately recommended to interested users.
Create event
Nearby hotels and apartments
the abbey centre, london, gb
---
---
great smith street 34
the abbey centre, london, gb
Event from
eventbrite.com
---
---
Are you an event organizer?
Create events for free. They will be immediately recommended to interested users.
Create event
London

›